Legendary Pittsburgh Restauranteur Joseph Costanzo Jr. Reveals all in his Tasty Memoir with "On The Rocks"
On the Rocks chronicles the real-life journey of restaurateur Joseph Costanzo Jr., from his rise to success in the 1990s as a owner of the highly acclaimed Primadonna Restaurant, radio host, columnist, and aspiring politician to his sharp fall in the early 2000s, ending in an investigation and a stint in federal prison.
Costanzo is a complex character, whom readers will admire for his confidence and rebuke for his arrogance, will love for his generosity and despise for his egotism, and will learn from in both his attention to detail and lack thereof.
This driven, not-your-average-Joe is an unforgettable character who achieves the seemingly impossible but can't help getting in his own way. Come along with Joe for a bumpy ride on the rocks
On the Rocks: The Primadonna Story, co-written by Maria C. Palmer and Ruthie Robbins is available now on Amazon, BarnesandNoble.com, Walmart, Target.  Signed copies at the Heinz History Center. Also follow them on Facebook and Instagram.
Today, we're having a conversation with all three: Joseph Costanzo Jr., co-writers Maria C. Palmer and Ruthie Robbins.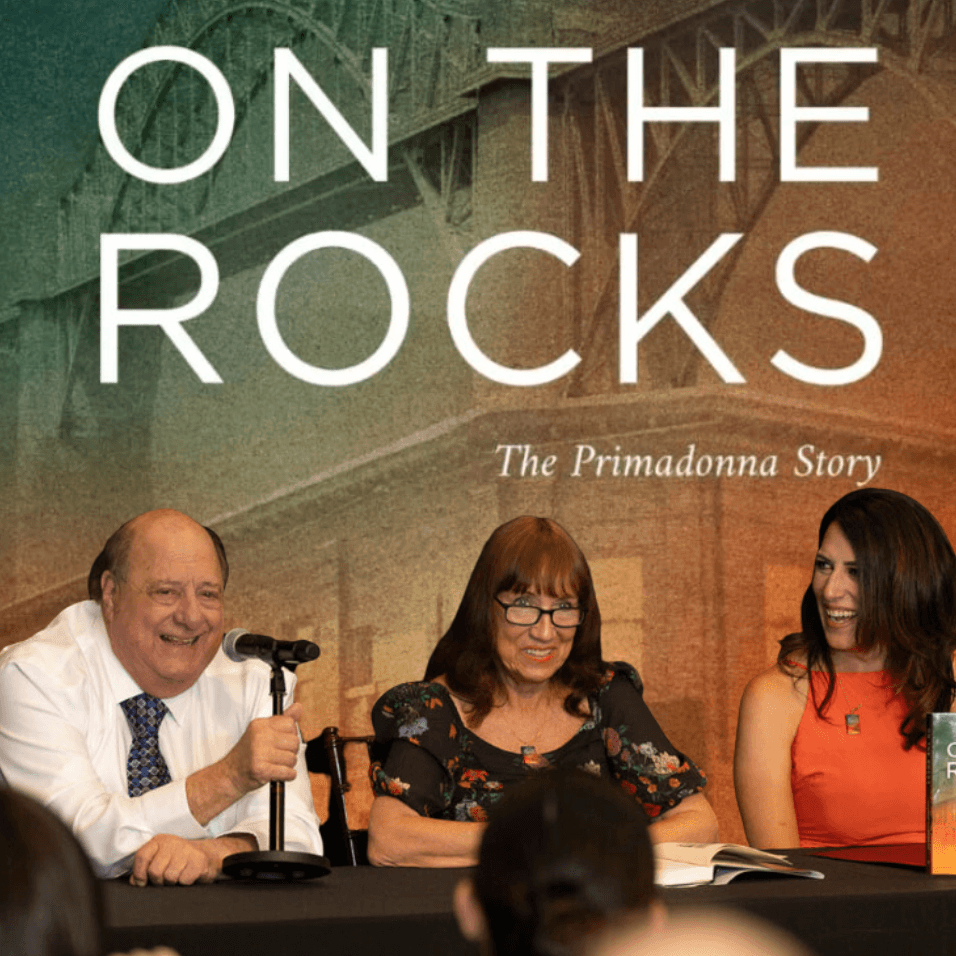 The conversation has been edited for clarity and length.  Find the un-edited conversation on our FlavRReport YouTube channel.
Something that I find amazing, this book has been 17 years in the process. Is that an accurate piece of trivia?
Maria C. Palmer: 100%. Yes, that is a very accurate piece of trivia.
So way back 17 years ago, what sparked this for you?
Maria C. Palmer: A couple of things. I think that because the restaurant was such a significant part of our lives, and it was always the highlight of my father's life. Once it went away, the spark kind of went away, too. And I wanted to bring that back in my Dad. So I started asking him lots of questions about his life. Specifically for a family history. At the time, being a writer myself, in addition to grant writing, I'm also a writer and I can really spot a good story that has commercial value.
There were just so many wonderful elements to his story. So I started recording some vignettes of different things that had happened throughout his life. But not really knowing and or intending at the time that it would be a book. 
But as we went on, I saw that the potential was there and I was lucky enough to still be in contact with my former teacher, Ruthie Dines Robbins and brought the project to her and asked her if she would be willing to work on it with me.
It was really from there that we decided it would become a book and that we would work together diligently for probably 10 years together.
Ruthie Robbins: I'm only 7 years.
Joseph Costanzo Jr.: They had it in Maria's voice originally. Ruthie was in a book club and they said, "Put it in Joe's voice and they had to go back and change the whole book."  I watched 11, 000 emails back and forth. 
Ruthie Robbins: We were not primarily emailing. We were mostly talking and texting, and that year was the pandemic year. So I was off teaching that winter and the following fall.
Before we get into the restaurant itself, what was the writing process like?
Maria C. Palmer: I can speak to the family history and just the overall process of it. It was really challenging. Because whenever you're writing a memoir or a biography, You're not writing a Wikipedia page. So it's not from the time somebody is born until the time that they pass away.
You're picking the most poignant time in their lives. Not only cherry picking all the good things that happened during that time period, but you're picking some of the challenges too, because that's what makes a good story. 
It was challenging to figure out what the storyline was going to be and sometimes to tell those hard parts of the story.
What was even more challenging, was just the nebulous nature of the publishing industry.  I just thought you wrote a book, it's on Amazon and then people buy it. And that could not be further from the truth. Query letters.  Polished one page, a 90,000 word manuscript.  A whole book proposal.  An entire business plan of why we're writing the book and why it's going to sell into the market. Requiring that much to not even get a thanks,, but just no response whatsoever.
Ruthie Robbins: Totally agree. The writing was not arduous part because Maria and I get along so well.. We're real partners, but this publishing thing.  We really didn't understand the process, so it is difficult, and especially in this genre, [competing with] the celebrities and athletes and reality stars who wrote memoirs.  They want a name on the shelf that someone will pick up in a bookstore. 
Mr. Costanzo, one of my favorite parts of this book is the wine mentions.  Tell us your "Pin on the wall" story.
Joseph Costanzo Jr.: Yeah we're in a tough neighborhood, but we brought in a lot of people outside the area and upscale people,  limos, what have you. 
I had a bus boy and he was a really good worker. He became a server and he came to me after he got the drink order and said, "what's a pin on the wall?"
I never heard of a "Pin on the Wall". So we went to the bartender. He didn't know either.  We looked it up, nothing. 
So I went out there to ask the customers, so we could make it for them  – and one of the most mortal sins at the Primadonna was making Joe Costanzo look bad – I said, excuse me what's in a Pin on a Wall and they all started laughing. The guy said, "Pinot Noir."
They're laughing at me.  That's bad. So I went in and I really did a job on this kid.  My wife grabbed me by my tie and pushed me downstairs to my office.
I was in this kid's face because he really wasn't real serious about the situation.  If you're going to be the best at what you're doing, you can't be messing up like that.
He ended up being great.  Chris, who was the server, became a maitre'd and a great employee of mine.  He was very loyal. I really went overboard with him and I did feel bad about it. 
Reviews are incredibly important.  The amount of work and effort you put in to get your Four Forks Review. Tell us a little bit about what happened.
Joseph Costanzo Jr.: Because the area was an old steel town which had a reputation of a lot of fighting, a lot of drinking, a lot of drugs, nobody would come into that area to eat.
I knew I needed credibility, and the only way I would get credibility was through the Pittsburgh Post, because the dining critic, Mike Kalina,  who was a syndicated columnist, had tremendous credibility. KDKA TV, Post Gazette, New York Daily News.
For two and a half years, I kept reaching out to him.  This is in a time before cell phones and emails.
But I knew if he comes down and gives us a good review, people from outside the area, from the upscale areas of the city are going to come in.  That's what happened. 
But he did say to me, "You deserve four, but I'll only give you three because you'll never handle the business." 
That Friday night, June 3rd 1988, he was 100 percent right. People were lined up at the door. I was used to doing 10-15 dinners a night. We did over 200 dinners that night and it was a total joke. People waited two and a half hours. When food came out of the kitchen, people actually applauded. People were begging me to get him a bottle of vodka because they couldn't get a drink at the bar. 
We were short of service. We were short of bartenders. I made it all work in the next couple of weeks and I hired people.
I don't want to ruin the upcoming movie or TV series, but when you trimmed it down, how much heartbreak was there in cutting out so many stories?
Joseph Costanzo Jr.: It was very tough. We had a book signing in August. I kept telling people they were in the book, and they were in the draft I read.  But there were final touches that I didn't see and we lost a lot of names and alot of stories.  So I really felt bad. I found the actual early draft and sent copies to those people.  This should be in a book, but it will be in the movie, I guarantee you.
Ruthie Robbins:  It was so hard. We did a lot of fact checking when we wrote, because memories are so unreliable. We talked to people who were in the original book [draft] and they expected to be more.  And on top of that, you try to end the chapter on a cliffhanger.  When you take out a story that changes the number of pages in the chapter, it changes the pace of the book.  That was a terrible editing challenge.
Maria, what was that like for you as the author and the daughter?
Maria C. Palmer: Originally the book was written partially in my voice and partially in my Dad's voice. It started chronologically for me in my twenties and [had] flashbacks because the story starts in 1986 and I was very young at that time.  It was confusing and it didn't work.  Everything that I wrote and all that I put my heart and soul into  was all cut from the book. So now I have another book project that I'm working on.
But I will echo what my father and Ruthie said. It was hard because everybody did have a significant piece to the Primadonna story.  
Mr. Costanza, it would be an easy assumption to say you've lived a big life. Are there one or two things you would have done differently in the stories of the book now looking back on them?
Joseph Costanzo Jr.: Sure. When you are hitting all home runs, you tend to believe that everything that you do is gonna be a home run.  I had the most popular restaurant in Western Pennsylvania. Maybe I'm going to do something else, maybe I'll go into politics.
I spent about $300,000 of my own money to put my name out there. Most people loved Joe Costanzo, but now when you get into politics it's not that way. So that was probably my biggest regret.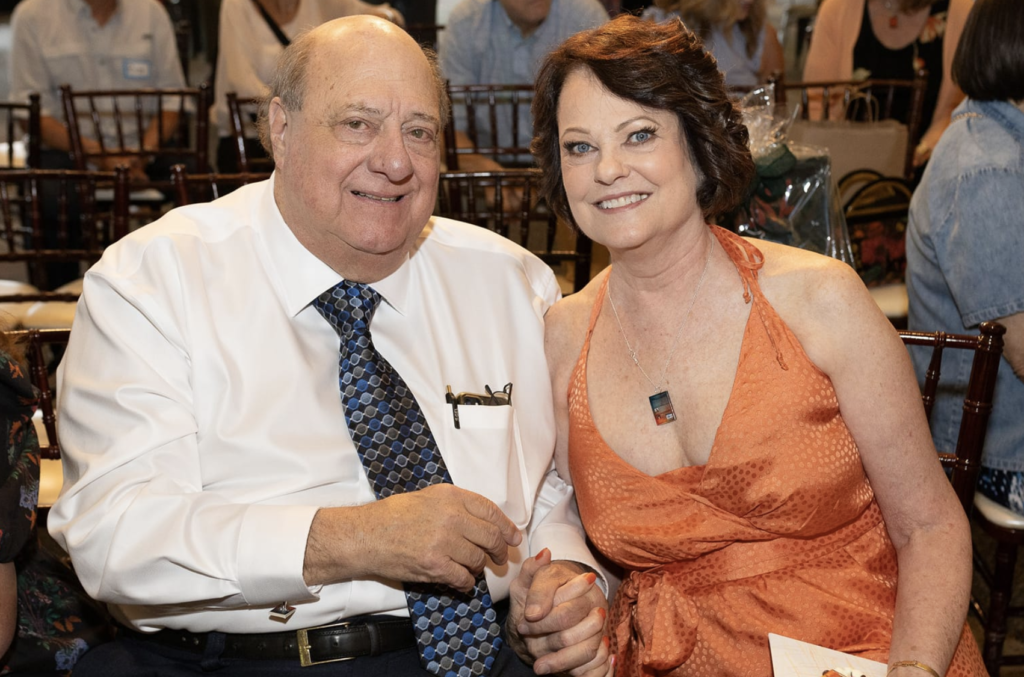 My wife begged me not to do it. She said, Joe, we have a miracle here and you're going to try for another miracle. And she was right. You may or may not like Joe Costanzo when you read the book, but you will love Donna Costanzo.
Joseph Costanzo Jr.: And that's bottom line. Everybody says the same thing. Joe, it was great. What he did is impossible, but his wife was a saint for putting up with all this stuff that a restaurateur has to go through. 
The theme of hospitality comes out in the book, but you so clearly love people.  What has it been like getting all these people's responses to this story?
Joseph Costanzo Jr.: This has been unbelievable for me. People are very happy that this all happened this way.  I treated people really well and people wanted to reciprocate.  So exhilarating to me. My life has been very boring, but now it's really gotten to the point where it's been great thanks to Maria and Ruthie.
Ruthie Robbins: It's heartwarming. Especially from former students, the outpouring has brought me to tears sometimes.  It's reconnecting with people over the book. That has really been so wonderful
Maria C. Palmer: This has been such a 17 year journey. I always believed that there was something special about this story.  Seeing that exactly what I felt in my gut for 17 years is actually playing out in real life.
Whenever we're in Pittsburgh, it is almost surreal because people are talking about "On The Rocks and it's really cool and crazy to know that something that you created means so much for people.
Joseph Costanzo Jr.: The big thing which is amazing to me is that the book came out August 8th, 2023. For two weeks, the book was the number one bestselling ebook on Amazon for culinary memoirs. Ahead of Anthony Bourdain's, Kitchen Confidential and Stanley Tucci's Taste "On the Rocks" for over two weeks was the number one overall best-selling ebook. Now that's hard to believe because this was just a Western Pennsylvania thing and Bourdain and Tucci are worldwide known authors and entertainers.
Tell us where we can find the book and all the ways we can keep in touch with this story.
Maria C. Palmer: So the book is really wherever books are sold.  We're on Amazon, BarnesandNoble.com, Walmart, Target. We're also at most bookstores.   Also on Facebook and Instagram.
Ruthie Robbins: There's also signed copies at the Heinz History Center.