1000 Stories Wines delivers Mendocino, Lodi Wine Country "Big Flavor" with Bourbon Barrel Aged Zinfandel
At 1000 Stories Wines, they share that same bold roaming spirit, which is why each of their wines tell incredible stories of exploration and discovery.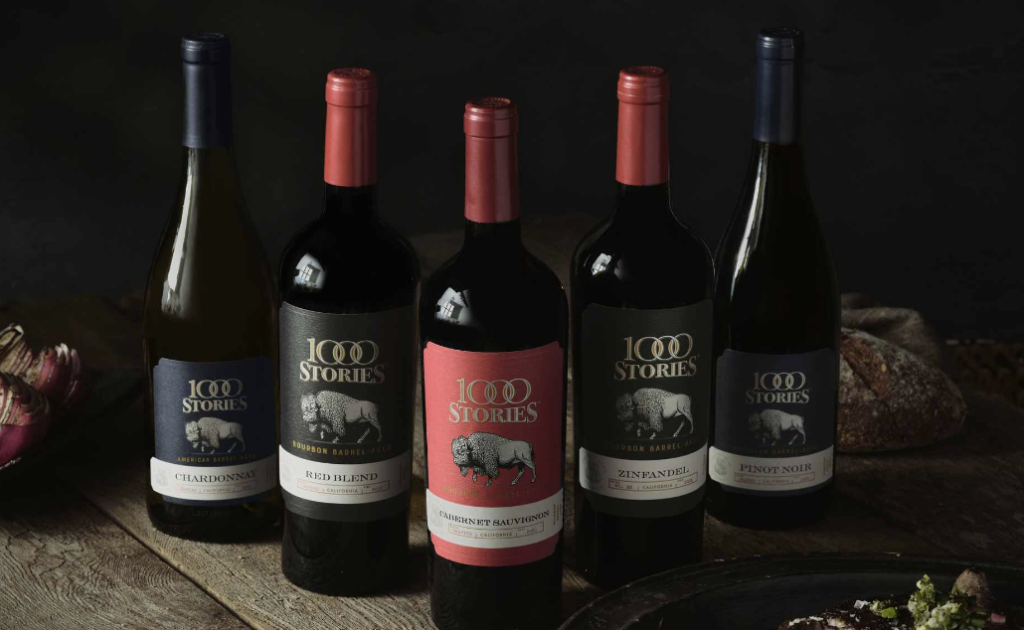 In every bottle thy hope you'll find journeys, encounters, people and places—stories that stoke the roaming spirit in all of us so that once your grass of wine is finished, you set out once again to create the next chapter in our stories.
Today we're talking with Margaret Leonardi from 1000 Stories Wines.  The below conversation has been editing for length and clarity.  For the full, unedited version, check out our FlavRReport YouTube channel.
Just to get to know you a little bit better, can you tell us more about what inspired you to get into the wine business?
Margaret Leonardi: I'm originally from an organic dairy farm in Northern California, so just the county north of here.  We're in Mendocino County. I'm from Humboldt County, so just the closest wine growing region from home. The wine industry is so much more glamorous and romantic than the dairy industry. I've been making wine since 2009. Now my whole life is the wine industry.
My husband is a winemaker too. We live in a vineyard. We're in the middle of harvest right now. We've been harvesting for over a month now. We'll harvest hopefully through Halloween.
How's it going this year? Are the grapes looking good?
Margaret Leonardi: Pretty average yields. It's a little later as a whole than normal harvest.  Not noteworthy, but maybe a couple of weeks depending on the region, the variety.  It's tasting good. The chemistries are nice. Good acids. So far we're happy but we're only halfway done. 
The brand is called 1,000 Stories.  On your website it mentions each of your wines tell incredible stories of exploration, discovery. Where does the idea of stories come from?
Margaret Leonardi: There's a lot of stories around how we came up with the name and how we got from point A to point B, but everyone has their own rendition, which is just ironic that it's 1000 stories. Our consumer is adventurous, and likes to roam and wander and connect with people.  So all those people, each adventure you go on, and each new connection you make, you have new stories, and you have new stories to share, and you can share our wines together. 
You mentioned the word "explore".  Up in your area is Yellowstone National Park, and a thousand stories that you guys partnered with Yellowstone Forever.
Margaret Leonardi: That's a new partnership for this year.  The official non profit partner with Yellowstone, and their main focus is bison conservation.  With our label, our mascot is a bison.  The partnership promotes bison conservation, make sure their population is safe and healthy.
It's a beautiful design. Tell me about how the bottle itself was created and how you decided what should be on that bottle?
Margaret Leonardi: We have three SKUs that are bourbon barrel aged. Our first is the Zinfandel, the OG of the portfolio, this came out first and then in the Bourbon Barrel Age side, we also have a Cabernet Sauvignon and a Red Blend.  
Then we have an American Barrel Aged section that's Pinot Noir and Chardonnay, so not Bourbon Barrel Aged, just American Oak.  That would be used for normal winemaking, and then we have our newest corn sku, it's a Sauvignon Blanc, and this is just stainless steel and some concrete aging.
The Bourbon barrel aged [popularity] has grown. We have customers who want more diversity, more variety. So we've expanded the set. 
On the Zinfandel [label], we have our mascot the bison.  Another noteworthy thing with this is on the Zin, because it was our first.
Each time we get bourbon barrels, we go through a 3rd party broker. So we're not working directly with any distillers.  We have a mix of the distilleries these bourbon barrels are shipping to us from, so they're all different. 
We're filling finished Zinfandel in these barrels and then we taste each one.
Some can be really bourbon-y, really potent.  A lot of fresh dill. Some can have less bourbon influence and it's more smoky, toasty. 
So we have to really craft each one. We're tasting a bunch of lots and crafting the blend for the finished product.
That's when we decided to put the batch number [on the bottle]. Because as a whole, the backbone of the wine tastes very similar, but there are some little minute differences. We wanted to convey that to the consumer with the batch number because you can tell [each bottle] tastes a little different.
Bourbon barrel has become very popular.  How was that method chosen at your winery?
Margaret Leonardi: It was a practice from the original winemaker, the founding winemaker, Bob Blue, who just retired a couple of years ago. 
We were innovating, thinking of new wine ideas, and this is a practice that he used 20 plus years ago. [Back then] French oak wine barrels were pretty pricey, like a luxury commodity to use. So he was looking at different alternatives to age his wines here at Fetzer. 
He had this idea. Bourbon and whiskey barrels were cheaper.
We bought some bourbon barrels and tried it.  We were like, we should bottle this, not blend this into a bigger portion. This should be its own bottle. That was in 2014, our first vintage. 
I started with the company in 2015. I was here at the beginning, so I saw some of the evolution and then Bob has retired and he's passed the torch to Sebastian and I.
Let's talk a little bit about the different varietals. The process, the styles aromas, flavor notes.
Margaret Leonardi: The first original Zinfandel is our classic.  I say classic because Zinfandel's kind of an American grape variety, it's very Americana.  It goes with our whole spirit of the brand, and It's what Mendocino County and Mendocino is known for.
We grow really great Zinfandel's up here, it's a nice and warm climate. We've also expanded, now we're sourcing some of the fruit from Lodi as well, which is also a really great growing region for Zinfandel.  They're also known for their Zin.
It's blended with some Petite Syrah.  Just to give the color a little more enhancement. Some more tannin structure. We want the whole backbone of the blend to be bold. You're supposed to match the bison. Big style, bold characteristics. We pick them when the fruit is really ripe. It's pretty hot.  Then we finish it in bourbon barrels and we can  use a little bit of American oak, French oak in there too, just to give it some oak enhancement. Usually around 15 percent alcohol in the finished product.
The unique part of the Zinfandel itself is the blackberries.  It's really juicy, some cranberry and then the bourbon barrel aging process is just where you get some like dried herbs, oregano, thyme.  Toffee characteristics from the toastiness of the bourbon barrel itself. 
The point is to have a really strong wine. We want to have a really strong wine. We don't want it to waft bourbon and we don't want the bourbon to sit on top of the wine.  We want them to be really integrated and just like a finish, not overwhelming or overpowering.
It's very well balanced. Were there any challenges in finding the balance or was it pretty straightforward?
Margaret Leonardi: It's not pretty straightforward. We wish.  The barrels coming from the distillers can vary.  They can be emptied the week before [and be very fresh]. They can be emptied a month [and be less fresh]. So how much has evaporated, how much has been absorbed into the wood.  Those are unknown factors. So it's a bunch of trial and error. So it's fun, but it's a lot of work. We want some consistency, but we want a little bit of difference. 
You've mentioned Sebastian Donoso. Tell us about him. How the two of you balance roles.
Margaret Leonardi: He's the winemaker for the Bourbon Barrel Aged Wines. Before we were both collaborating with Bob, it was more like a team effort.  When Bob stepped down, we also had the new American Barrel Aged Pinot and Chard and the Sauvignon Blanc's brand new.
Sebastian took the Bourbon Barrel Aged because he was working on those more, and then I took the other half.  We work together.
Before we move on, I don't want to forget the Sauvignon Blanc. Process, styles, aromas, the taste?
Margaret Leonardi: This just came out in April of this year so I'm really excited. I think it's still working its way across the nation, but I'm really happy with this wine. I really like the way it came out and I got to make it from scratch. I made exactly what I wanted.  It's nice when you make something that you really like to drink too.  The fruit that we source for this comes from the majority from the Arroyo Seco region, so down Monterey, central coast of California, which is just a really nice growing region, Bay Area influence.  Warm days and then cool evenings. A little bit comes from just up here in Mendocino County. Then the rest is from Lodi. 
A unique thing is it's blended with 10% Viognier. The Viognier is an ironic blender for Sauvignon Blanc, but it's like in the spirit of things bold, I have this Viognier that I really like.  It's really concentrated, ripened flavors. A lot of peach and nectarine flavors, so I thought it could be really interesting in a Sauvignon Blanc.
I fermented them separate and then blended this percentage in there and It's really interesting because the Sauvignon Blanc has a little bit of grassy, grapefruit, citrus aromas, 
The Viognier twist makes it almost a little floral, but you get those white peach, stone fruit flavors pop a little more because of that Viognier.
It's all stainless steel, fermented and aged, so it has no oak contact. I do some concrete eggs. I think it enhances the texture and makes it a little more mineral-y.
Are you a foodie?  Can you please suggest some really delicious dishes that pair with these bottles?
Margaret Leonardi: That is a nice thing about our portfolio expanding,  because before we had the three reds. So it's similar food pairings. Now that we've expanded, we can have almost a wine for any dish. The Zinfandel and all of the bourbon barrel aged wines go really great with barbecue or smoked meat, ribs, red meats.  It's a good "occasion wine", right? If you're going to a friend's house for a barbecue or somewhere where you want to grab a bottle of wine, but you aren't sure what – it's a crowd pleaser, it's a perfect conversation starter.  Sporting events soccer games, Super Bowl, that kind of thing.
Then the Sauvignon Blanc pairs well with oysters, light sauce pastas, cream based pastas.  It's also great just appetizer wine. I think the Viognier is different. It is fun to start with it. So if you're coming over and not sure what to open or if you're having a dinner party, it's like a great wine to kick off the night with.
You can explore it and then it transitions well with food, especially as it warms up a little.
Where we can find you follow and find that all this stuff both to buy as well as on social media
Margaret Leonardi: The brand as a whole is available through our website.  They're also available at any grocery stores around the whole country.
For our social media, our Instagram is 1000 Stories Wines. We have a Facebook, a YouTube, and TikTok.