Looking for Health, Honesty and Flavor in your Tuna? I tried Safe Catch and caught some Vibes.
I used to love tuna.  I like the briney taste and who doesn't love the health experts.  Call it a fantasy, but I thought my skin looked better as a result too.
But then I felt lied to by the whole industry.  Dyed?  Faked?  Poisonous?  Really horrible conditions? I avoided tuna for years. 
Is Tuna healthy? What's the worst kind?  Farm-raised?  How do you *really* know if it's farm-raised or not?  
Needless to say, there's a lot of mis-information out there.  Which is why transparency is good.  Knowledge is good.  And then, once you get the full story, does it actually taste good.  Do I want to eat it?  Does my family want to eat it?  What's the best way to cook it or prepare it?
It's a lot of questions for what should be a simple product.  
Safe Catch is trying to solve a lot of these problems.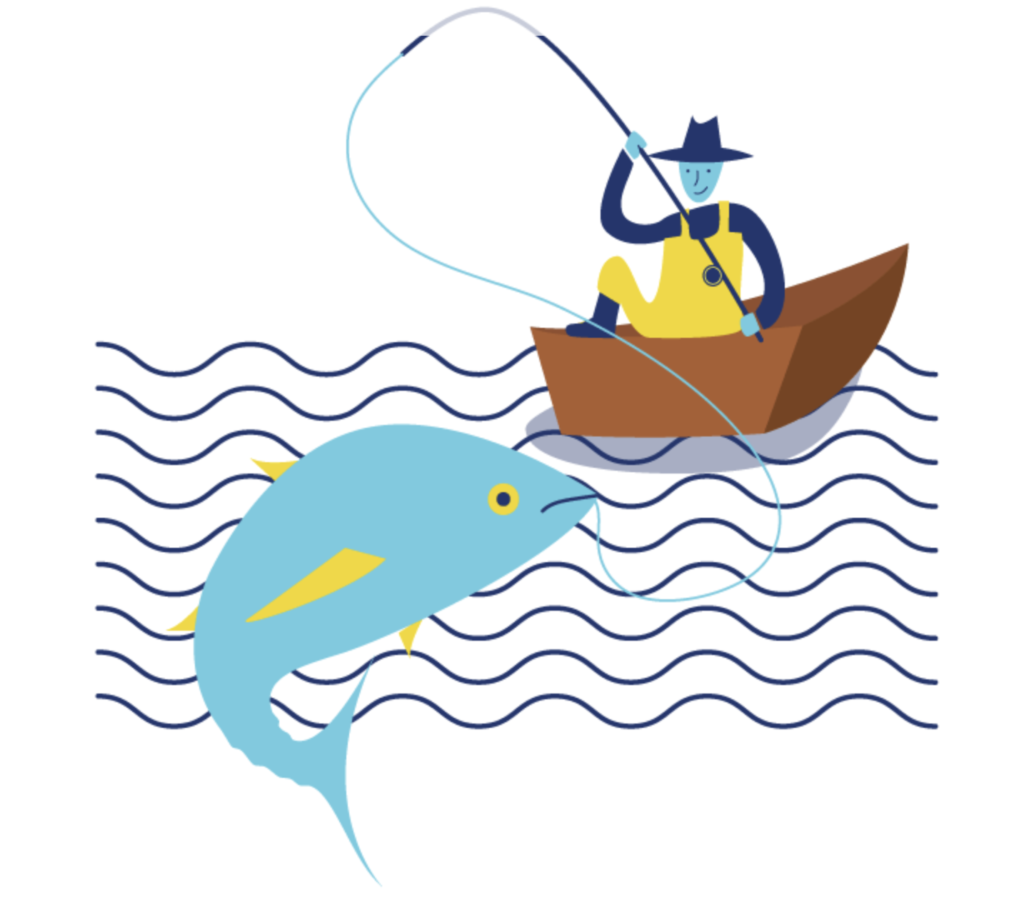 So I was excited to receive a Safe Catch package.  I feel like they read my mind, because they share (over-share) a ton of info.  And I loved browsing through all of it.
So let's talk about Safe Catch, how healthy they are, how tasty it is and what I really think.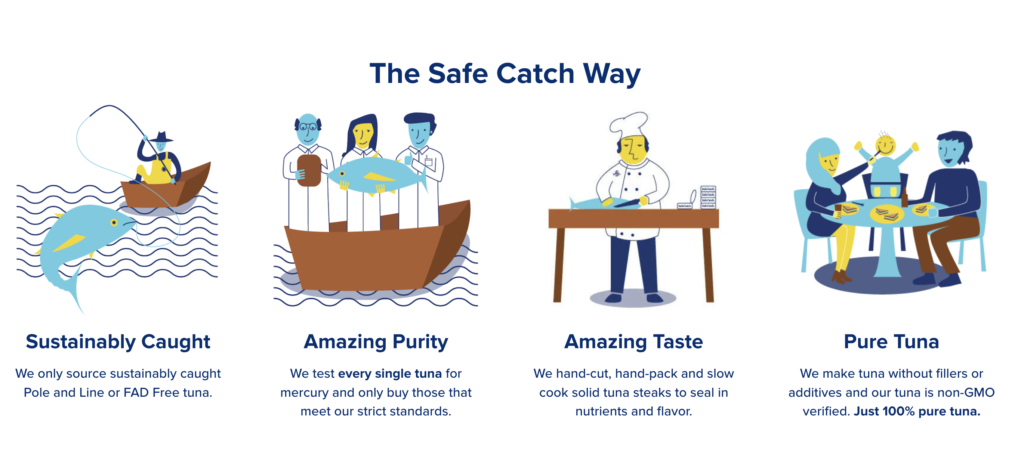 How is Safe Catch's Tuna is Caught
Their tuna is traceable from catch to can and they reveal they only buy from captains whose fish come from managed and sustainable tuna stocks as part of their Sustainability Policy and Socially Responsible Sourcing Policy.
How They Test Their Tuna 
They use proprietary technology to test every single fish for its mercury content. If it doesn't meet their purity standards we don't buy.  
(They stress it still might be a good tuna, it's just not 'good enough' for Safe Catch.)
How it's Packaged
Safe Catch explains other canned tunas lose flavor and Omega 3 healthy fats from machine processing. Instead, Safe Catch hand packs pure, raw tuna steaks to retain maximum nutrients and then slow cook them to perfection.
Other canned tuna companies precook their tuna and use additives and fillers to artificially enhance their fish. Safe Catch doesn't add anything, except salt where it's been noted.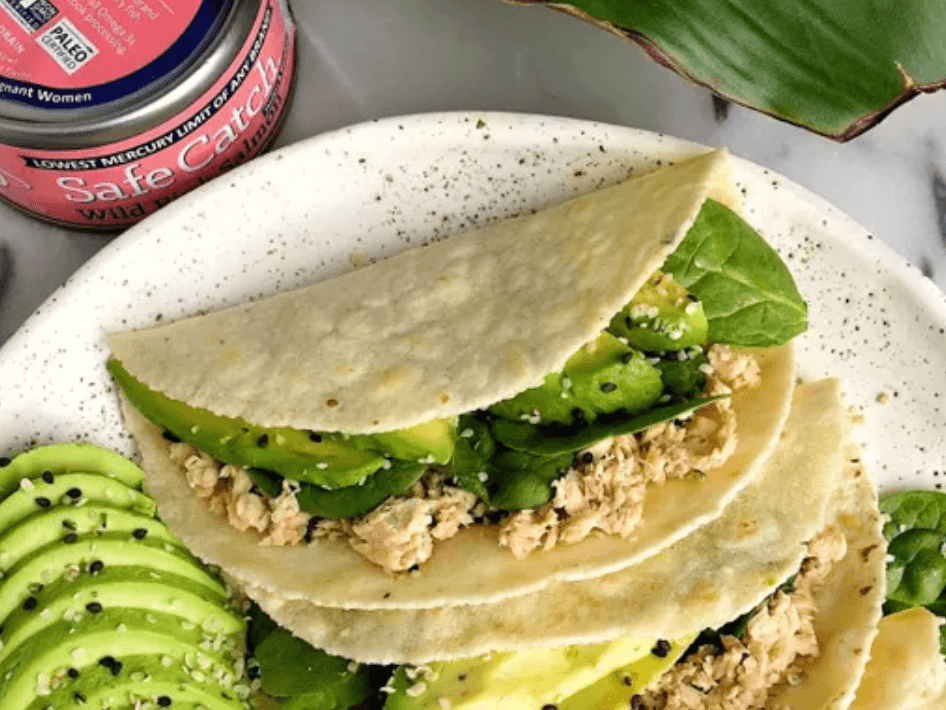 I found Safe Catch's Recipes section pretty cool.
I'm a foodie.  My family are different levels of foodies.  But if I make it a game (we call cooking 'games') then everyone will at least have a bite.  After one bite, you get a very, very honest response immediately. But it's also been a great way to add (or disguise) flavors for anyone how may night life "fishiness" as much

What are Safe Catch's current Tuna products
Elite Wild Tuna
Wild Pacific Pink Salmon
Wild Pacific Pink Salmon, No Salt Added
Elite Wild Tuna, Chili Lime
Elite Wild Tuna, Citrus Pepper 
Elite Wild Tuna, Garlic Herb
Wild Ahi, Yellowfin Tuna
Wild Ahi, Yellowfin Tuna in Extra Virgin Olive Oil
Wild Ahi, Yellowfin Tuna in Avocado Oil
Wild Albacore Tuna
Wild Albacore Tuna, no salt added
Wild Pacific Pink Salmon, Citrus Dill
Wild Pacific Pink Salmon, Italian Herb
Wild Pacific Pink Salmon, Rosemary Dijon
Sardines in Water, Skinless and Boneless
Sardines in Extra Virgin Olive Oil, Skinless and Boneless
Wild Mackerel in Olive Oil, Skinless and Boneless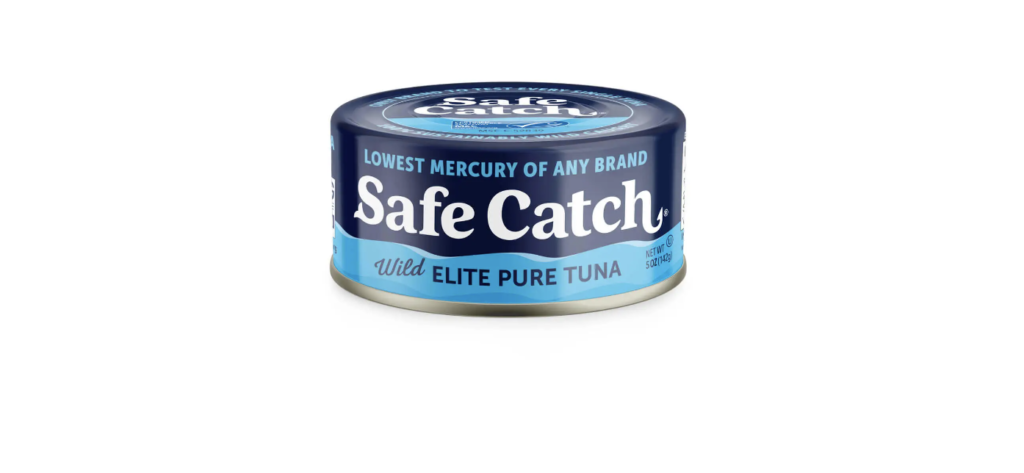 Do I recommend Safe Catch?
Yes.  You have to admit, they're going above and beyond with transparency, safety and health.  That's what we need more of.
How does Safe Catch Tuna taste?
I loved it.  Their taste is even a little subtle if you appreciate fresh seafood brine.  Try their recipes and you might even convert the pickiest eaters in your family.
Visit Safe Catch's website here.