Newberg Oregon's Vino Vasai Pours World-Class Pinot Noir, Super Tuscan with Unique Tasting Experience – Wine Review
Potter's Vineyard and Vino Vasai Wines offers a small lot collection of high quality wines and a memorable visit.
When you go wine tasting, what kind of experience do you want?  Rushed?  Crowded?  In, out and onto the next place?
In some of the most popular wine regions in California and in Oregon, a visit can feel more like you're walking through a theme park than being invited to enjoy a living, breathing winery.
Vino Vasai is a little (or a lot) different in many ways.  For one, they really want you to have a calm, romantic, delicious experience.
They go out of their way to make it happen.  How?  They stagger their appointments, deliberately plan out the timing, they want conversations.  They foster an environment that encourages visitors to ask questions, lots of questions.  Really sharing about their world, their team and their wine.
As a result, you end up with a memorable,  world-class wine experience.  And we haven't even gotten to talking about the actual wine yet. 
The winery intentionally limits production, producing less than 1,000 cases annually. Varietals include estate Pinot Noir, and sourced Chardonnay, Cabernet, Merlot, Sangiovese, and Syrah from single vineyard estates in Washington.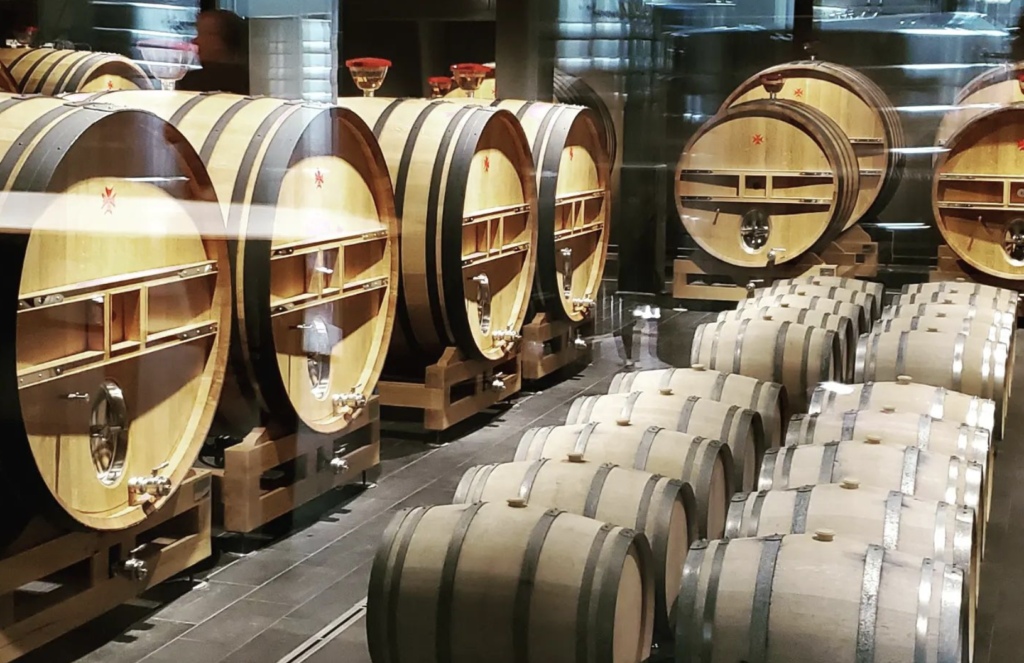 The winery goal is "to offer the very best tasting experience in Oregon". 
We'll Always Remember Italy
Bill and Sandy Sanchez are the winemakers and owners.   Bill is an example of the mix of art and science –  leveraging 30 years as a PhD Nutritionist and 15 years as a professional Potter. – a common combination seen behind successful wineries.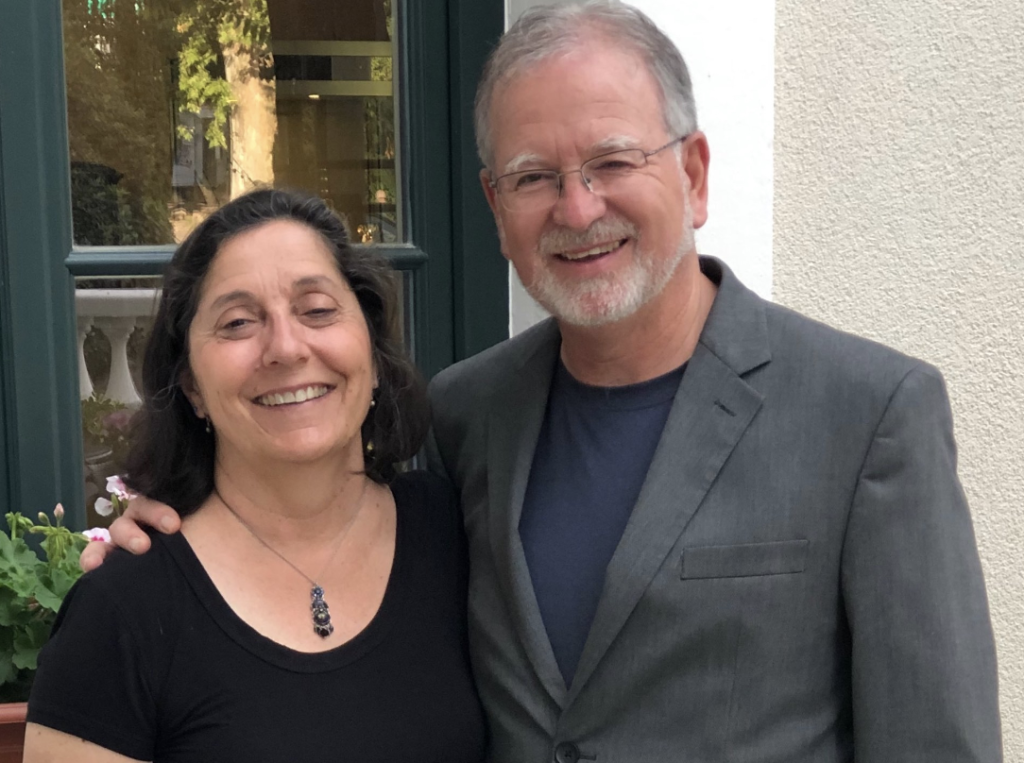 Sandy brings her Italian heritage and a lifetime of passion for Italian cuisine.
Back in 2011, they were on a visit to Italy, falling deep in love with art, Michelangelo's work and Italian cuisine. 
With Italy on their mind, just a year later they met Vineyard Proprietor Laura Volkman and struck up a dynamic partnership.  Bill wanted to learn everything there was to know about Pinot Noir – from farm to bottle.   Laura was happy to mentor him and ended up selling her estate to him a year later.
The rest is bottled history.
Vino Vasai Family
Potters Vineyard, translated in Italian to Vinao Vasai, is a family (some biological, some not) passionate for good food, good wine, good art and who want to make an intimate product that actually makes a personal impact.    
Assistant Winemaker Consultant Art Roberts joined the team exactly for that reason, to be part of a family-run winery that makes incredible, affordable small-lot wines.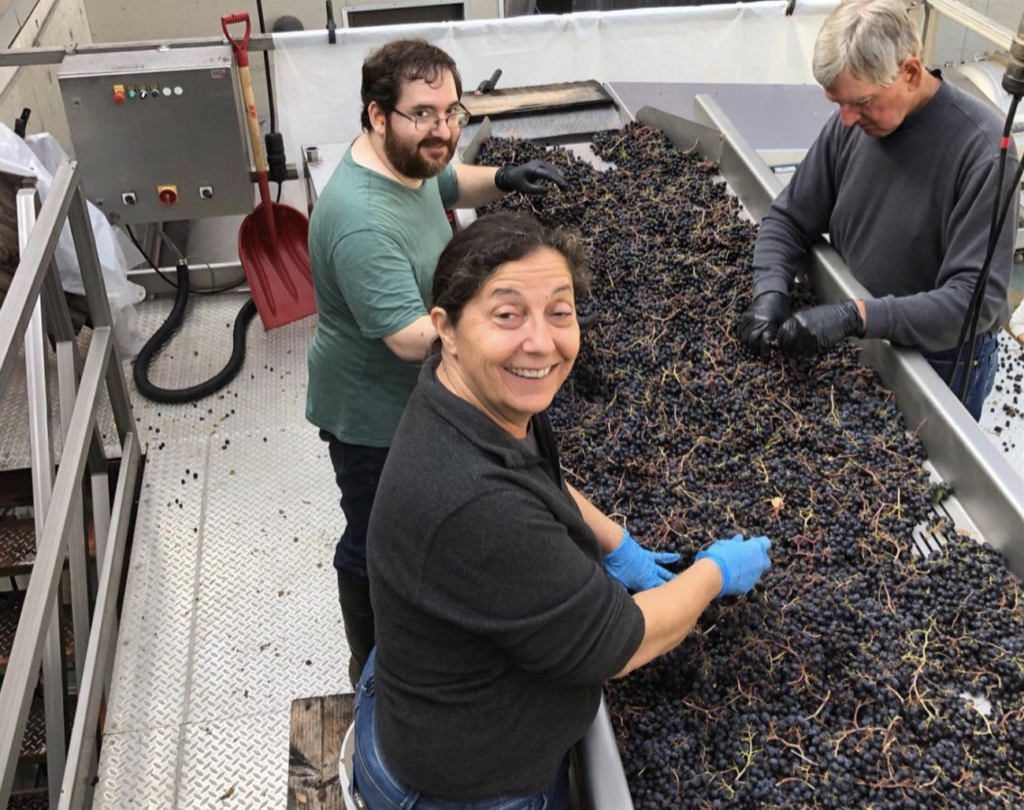 Keeping with the family vibe, Sandy (tasting room and wine club manager), and Gretchen (customer service specialist). Daughter Melinda and son Eric help with harvest, tasting room, and digital support. 
The family does tractor work, vineyard management, and grape sampling along with help from several friends. The family and wine club pick fruit for their Rose' each year. Potter's Vineyard is truly a "Grower-Producer". 
The Vino Vasai Region
The Sanchez's purchased their 3.5-acre estate vineyard in 2012 from Laura Volkman. Laura planted the vineyard in 2001. She sold and partnered with Bill and Sandy on the 1,000 steps of growing and making premium Oregon Pinot Noir.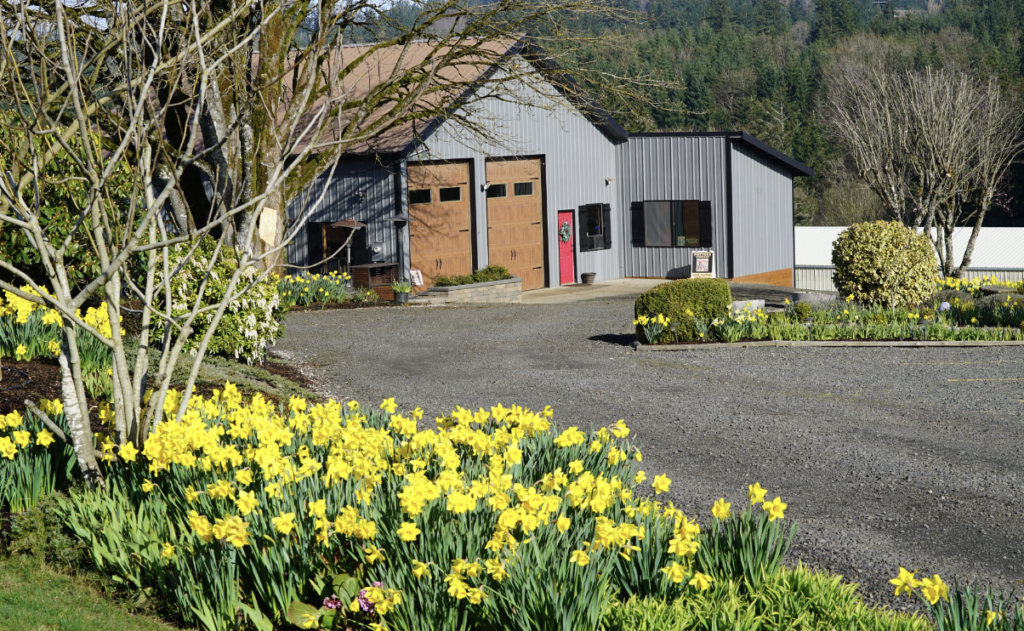 They were attracted to the artisan feel of the tasting room Laura created and have since transformed it into a Clay Art Gallery. Customers visit and taste wine in a fine art gallery and vineyard setting.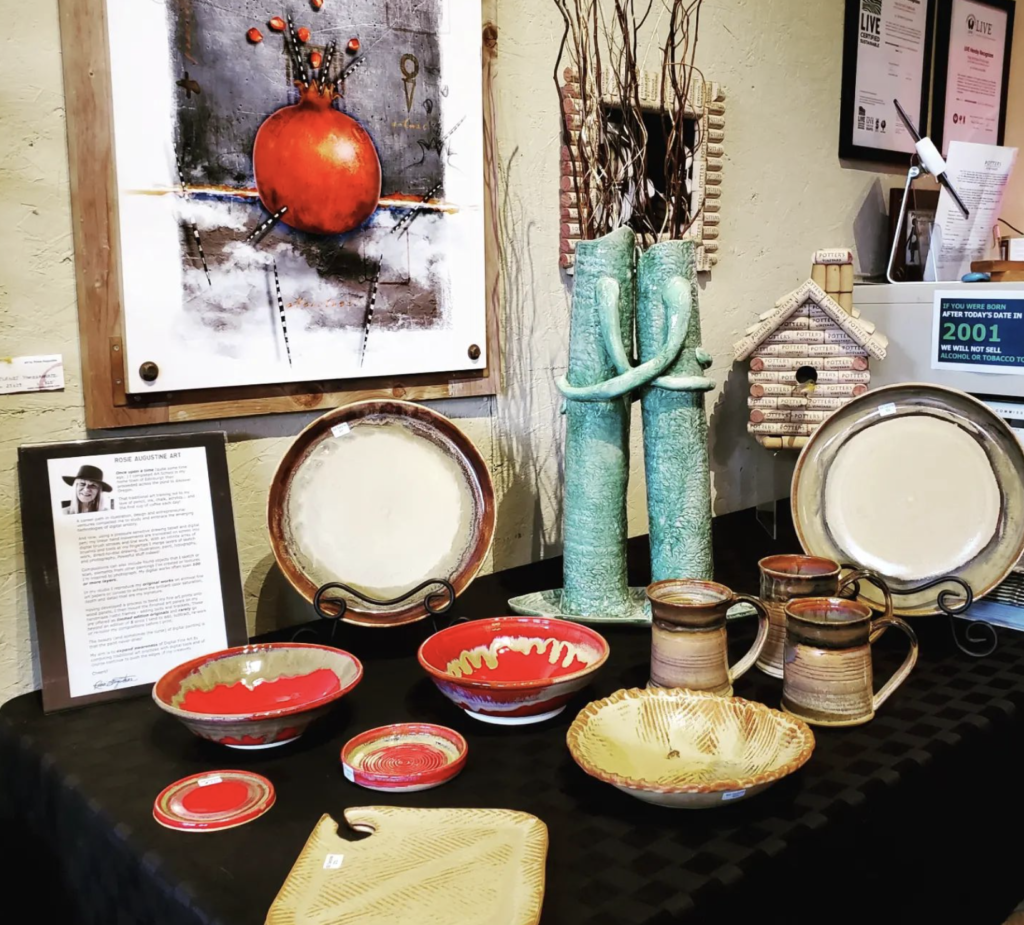 The wine is made in a cooperative studio of several winemakers. Bill & Sandy make all the wine themselves, sort fruit by hand, do all the punch downs and make all decisions from primary fermentation through barrel aging in French Oak. Wines are kept separated to create Reserve, Barrel Select and House labels and are bottled one to two years after harvest.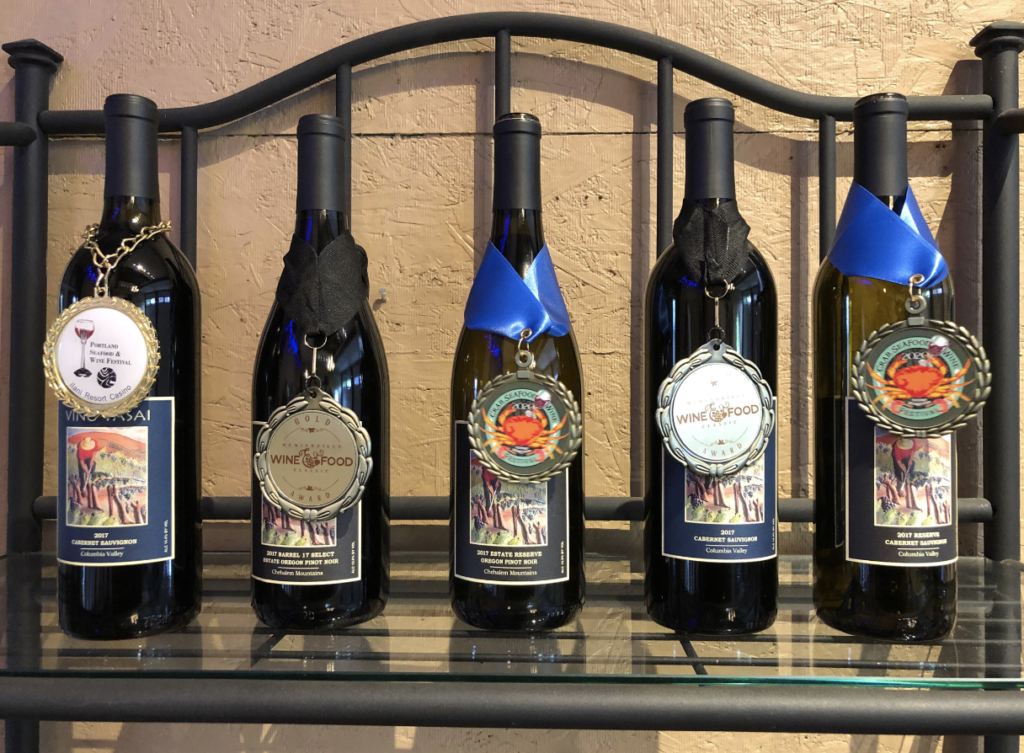 The vineyard is certified LIVE, Salmon Safe, and Bee Safe Farming with a focus on immune health. 
Vino Vasai 2019 Estate Reserve Oregon Pinot Noir, Chehalem Mountains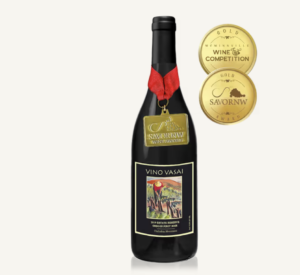 Curious to taste a well-loved Pinot Noir?  
This is a special bottle.  Let's start with the grapes. Pommard and Dijon 777 planted at 700 feet elevation in the newly established Laurelwood District, a sub-AVA of the Chehalem Mountains and Willamette Valley AVA's.  What does this tell us?  Lots of cool, wet weather creating that well-known Willamette Valley elegance.
The grapes were picked at peak ripeness during a small window of perfect timing in an otherwise very fickle harvest season. As a result: lower alcohol, great acidity, complex flavors.
They chose lees aging in new French Oak to create a very classic Oregon Pinot Noir.
Deep ruby in the glass.  Pronounced black cherry on the nose.  Black plum, white pepper. Medium body, medium tannin, with a long finish.
With only 98 cases produced, good luck getting your hands on this bottle.  But if you can, do it. 
Vino Vasai Super Tuscan 2020 Columbia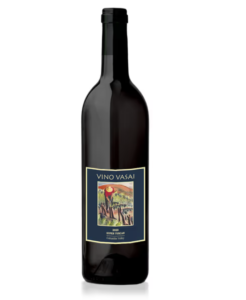 When a trip to Italy inspires a bottle, everyone wants to have a taste.  Their goal was to share "a taste of Italy." 
The blend is 55% Cabernet Sauvignon, 33% Sangiovese and 12% Merlot 
This Super Tuscan is grown in high elevation vineyard sites in the Rattlesnake Hills AVA of Washington State.
Warm days, cool nights help the grapes ripen with complex flavors and great acidity. Aged in neutral barrels for 18 months. 
Deep ruby in the glass.  Fresh red cherry and red currant on the nose.  Medium body, velvety tannins, black cherry and blueberry notes.  Silky mouthfeel and a medium finish that holds on just long enough, playfully inviting you for the next sip.
Pairs well with any traditional Italian dishes – think lasagna, sausage, spicy meats, meat pizza.  Very Tuscan, indeed
Vino Vasai Wine Club
The Wine Club has 2 tiers:  B Club and M Club
Both offer discounts, specials, members only access,  invitations and more.
Find the Vino Vasai wine club details here. 
Visit the Vino Vasai Tasting Room

Visitors are encouraged to stroll through the vines and enjoy the hilltop view of Parrett Mountain to the East, The Oregon Coast Range to the West, and Dundee Hills to the South. 
The wines are available direct from the tasting room, online at www.pottersvineyard.com or in a few local wine shops near the vineyard. 
Tastings are By Appointment Only at 11am, 12:30pm, 2pm and 3:30pm.