Neal Brennan Announces 'Brand New Neal' U.S. Tour stop at San Diego's Observatory North Park May 20
Emmy-nominated writer, director, producer and standup comedian Neal Brennan announced his upcoming BRAND NEW NEAL Limited Tour.
the 4-city tour kicks off Saturday, May 20th in San Diego
Produced by Live Nation, the 4-city tour kicks off Saturday, May 20th in San Diego, CA at The Observatory North Park and continues on through Philadelphia and New York before wrapping up on Friday, August 18th at Varsity Theater in Minneapolis, MN.
The tour follows the release of his Netflix comedy special Neal Brennan: Blocks, which hits the streaming platform tomorrow, Tuesday, November 8th.
TICKETS: Tickets for the tour go on sale starting Friday, November 11th at 10am local time at ticketmaster.com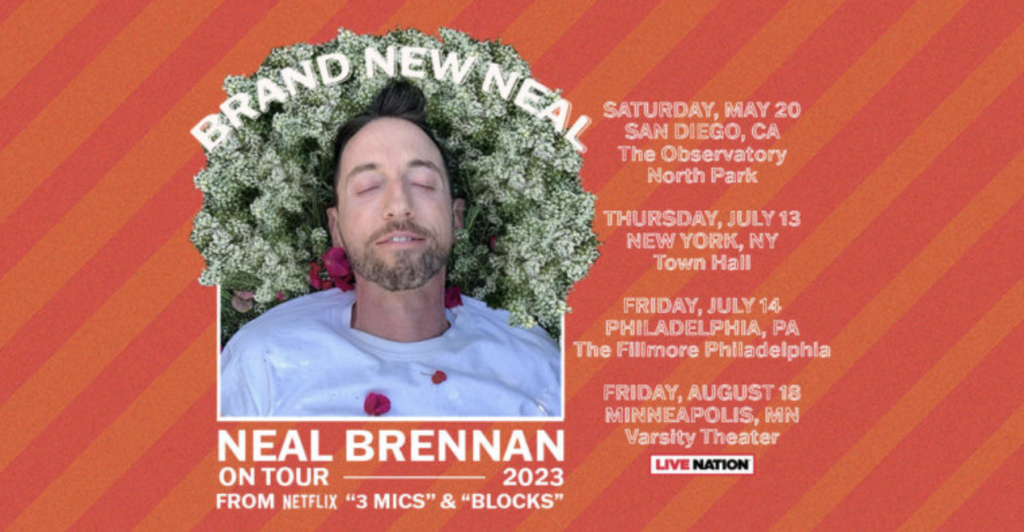 BRAND NEW NEAL TOUR DATES: 
Sat May 20 – San Diego, CA – The Observatory North Park
Thu Jul 13 – New York, NY – Town Hall Theatre
Fri Jul 14 – Philadelphia, PA – The Fillmore Philadelphia
Fri Aug 18 – Minneapolis, MN – Varsity Theater
About Neal Brennan
Three-time Emmy nominated writer, director, producer, and standup comedian Neal Brennan has become a force in the comedy world. An across-the-board talent, Neal has found success in almost every creative vein in the comedy community. His latest Netflix comedy special Neal Brennan: Blockspremieres globally on November 8.
Neal Brennan: Blocks was adapted from Neal's hit one-man show Unacceptable. Beloved Magician/Artist Derek Delgaudio (HULU's In & Of Itself) directed both the Netflix special and the theatre run. The stage show had a sold-out NYC residency in the Fall of 2021, with Interview Magazine lauding "together, Brennan and DelGaudio have crafted a genre-bending show focused as much on fun and laughter as it is on intimacy and honesty" and Theatermania gushing "The comedians Neal Brennan has written for is insane….Even more insane (in the best way), is the material Brennan writes for himself."
Neal's critically acclaimed first off-Broadway one-man show 3 Mics also enjoyed a sold-out NYC run in 2016 with superstar musician John Legend serving as Executive Producer. 3 Mics was taped as a stand-up special, which premiered on Netflix in 2017, with Paste Magazine offering "It will floor you in the best way possible."
As in-demand behind the camera as he is in front of it, Neal was recently a writer, creative consultant, and on-air correspondent on Comedy Central's The Daily Show with Trevor Noah. He is a longtime collaborator of iconic comedian Dave Chappelle, with whom he has created multiple comedy fan favorites including the legendary Chappelle's Show and the Emmy-winning Saturday Night Live episode immediately following the 2016 presidential election. Neal served as Executive Producer on Chris Rock's recent standup special Chris Rock: Tamborine and as Director on fellow Daily Show Correspondent Michelle Wolf's HBO special Michelle Wolf: Nice Lady. He has helped create and performed in numerous TV series and films, developing what The New York Times calls his "hip-hop and Frontline aesthetic." He regularly headlines the good standup venues in the good parts of America.