Holidays 2023: Fresh Victor Puts the the drinker in charge with Fresh, Organic and Full Flavor Mixers.
Fresh Victor is how you make fast, delicious craft cocktails and amazing mocktails — Every. Single. Time. 
Fresh Victor is a line of premium mixers for consistently delicious and efficient cocktails (and mocktails too.)
H.

Ehrmann

knows his cocktails

H. Ehrmann is a bartender and drinks industry consultant who runs Elixir, one of the most influential bars in San Francisco.  In the industry for 35 years, owned a bar for 20 years. 

Recently he hosted a virtual mixer walking us through several cocktails using Fresh Victor as the mixer: from non-alcoholic, to low alc, to full alcoholic.

Cold-pressed juice-based cocktail mixers. They have added sugar, either organic cane sugar or agave nectar used to balance out citrus levels to hit the intended brix level for most cocktails.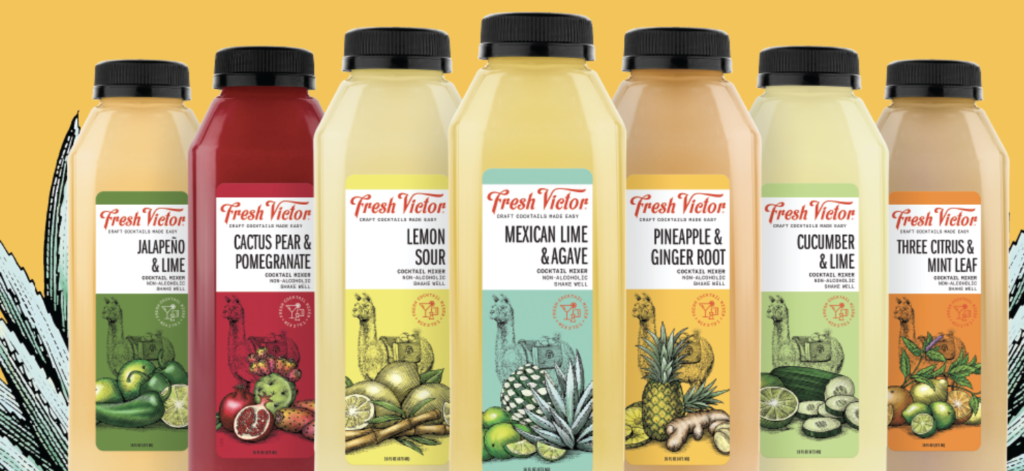 For example, with the Lemon Sour, the base is known as a pretty simple flavor profile.  You can add another layer of flavor complexity (like a liqueur).  But the Fresh Victor mixer was designed to have more depth, a bit more bitterness to handle any additional sweetness added. 
Fresh Victor +1 or +2
All of the Fresh Victor bottles are designed to make delicious cocktails, but simply and easier.  How?  The amount of cocktails that can be made by adding just 1 or 2 ingredients plus the Fresh Victor mixer.
+1 is agave and tequila.  Lemon Sour and whiskey. 
+2 might be carbonation, frothing, aromatics, like:  tonic, soda water, champagne, egg white, bitters.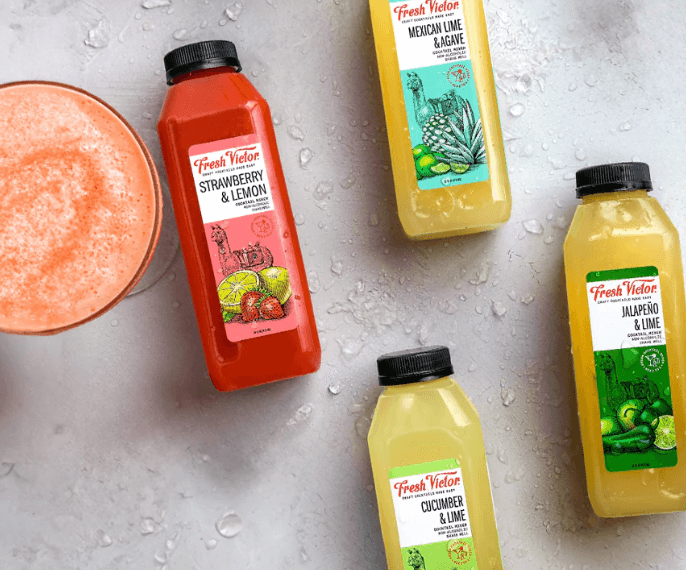 "2-3 pours and a lot of flavor"

– H. Ehrmann
With those 3 elements and Fresh Victor's 9 flavors, you can end up with dozens of drinks.  From classics, to a spin-off of a classics (including mocktails).
Mixing ratios: 1: 1 and 2: 1.  
1 1 / 2  oz of spirit to 2 ounces of mixer
2 oz of spirit to 2 ounces of mixer
If the drinker likes the taste of the alcohol, they want that taste to "punch" through, then then 2:2 is better for them.  If they want the flavor sweeter, iding behind the mixer, 2:1 is the answer for them.
Fresh Victor is a mixer, not a juice.  So it's meant to take on dilution as you build your cocktail. Right out of the bottle, it's a bit more concentrated, more dense.  Meant to be stirred, shaken, reduced down without watering down the flavor.   It can dilute 15-20% without losing quality. 
Using Fresh Victor, you can create a 32 oz, 64 oz or a gallon punch bowl for a holiday party in less than 5 minutes.  And it's not a simple, lame flavor.  It's complex.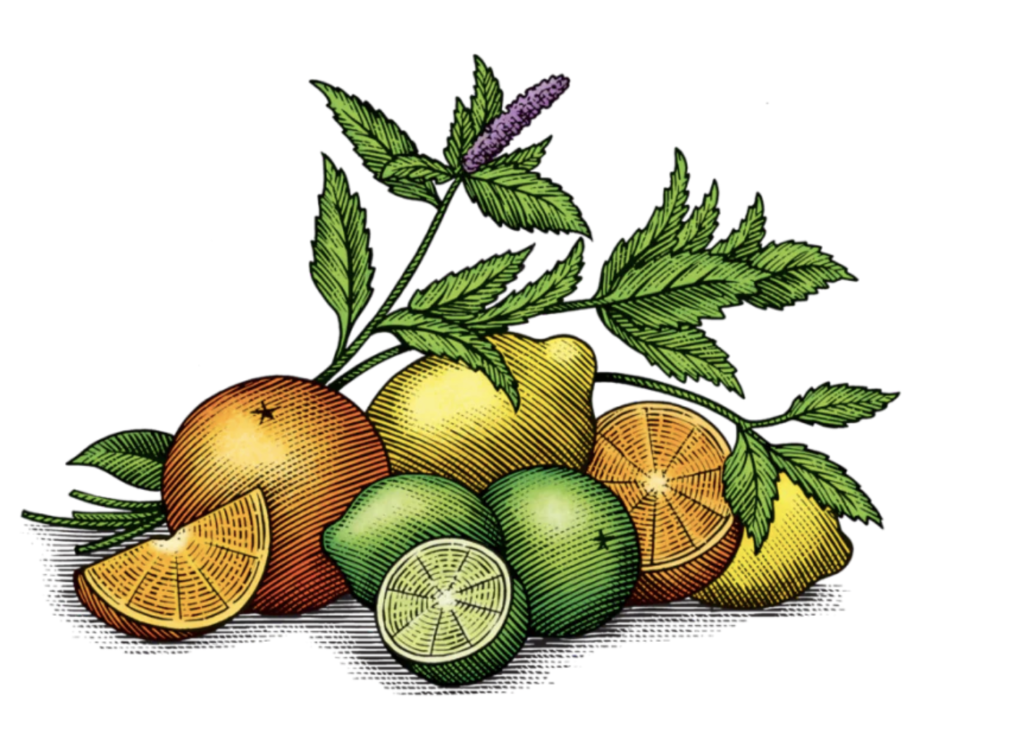 Orchard Bliss Royale
Non-alcoholic.  When you add Champagne or Sparkling, it's called "Royale" and today's drink is adding Sparkling Cider.  
4 oz sparkling cider
2 oz Fresh Victor (Three Citrus and Mint Leaf)
Garnish with dehydrated apple slices
The nose is refreshing. Vibrant apple.  Effervescent on the palate, from the Sparkling. A balance of lemon, lime, orange.  Plump, but not overwhelming.  Mint notes that bring a tertiary element.
Suggestions include playing with adding a shot of vodka, rum or tequila, any of which would work well.
Fresh Victor mixers give a fruit-forward base that makes it easy to play and experiment with.
Winter Spice Tonic
"When mixed well, Gin impacts the overall character of your drink, but doesn't get in your face".
1 oz Tanqueray london dry gin
1 Oz Fresh Victor (Cactus Pomegranate)
4 oz Fever Tree Tonic
Aromatic bitters
Garnish with vanilla bean, All-spice berries, Dehydrated Lemon
The nose is immediately the charming, floral aromatics you'd expect from the gin.  Then slowly the baking spices express themselves.  Deep character layers and complexity.  A gush of tonic, then lingering vanilla and lemon.  
Definitely a gin drink for someone who's not a gin fan as it showcases the best of gin without being overwhelming.
Love a standard gin drink?  Try Gin and Tonic with Fresh Victor's Cucumber and Lime!
H. Ehrmann feels one the the reasons Fresh Victor is so popular is because people want to be able to make easy drinks at home that still have amazing flavor.
"I've taught cocktail classes for over ten years.  As much as students love it and geek out over cocktail details at the bar.  When they get home to their kitchen, they still prefer to have something easy.  That's a huge part of when Fresh Victor is."
One of the keys to Fresh Victor is adaptability.  The drinks are scalable and easy to experiment with.  Having more guests than expected?  Want stronger drinks?  No alc of low-alc drinks?
"The 2 things that show us down when drinking cocktails, alcoholic strength and bitterness.  Those are things that help us drag a cocktail out 10-20 minutes. Like, intentional speed bumps to keep you from drinking too fast.  So removing the alcohol from a recipe, removes that speed bump.  Adding more bitters, adds it back.  It helps a non-alco drink feel more like a cocktail."
How did Fresh Victor launch and grow during the struggles of the pandemic?  Luck, hardwork and finding an audience that wants flavor.  H. Ehrmann explains: 
"Just before Covid, we decided to focus Fresh Victor on bars and restaurants.  So Covid hits.  We decided to re-package into a 16 oz bottle.  Within 6 weeks we had these bottles available in 7 states direct to consumer. Within 2 months, we had 48 states direct to consumer.  I shifted to selling cocktail kits from home and Fresh Victor was the perfect partner for me.  Take a liter of tequila and a 64 oz bottle of Mexican lime and agave, you can make 32 margaritas.  I was selling those kits like crazy.  People were re-ordering every other day."
Figtorious Celebrations
2 oz of Fresh Victor (grapefruit and sea salt)
2 oz VSOP brandy
1 / 2 oz fig syrup
Try thinking of Fresh Victor less as a mixer or a juice and more as an ingredient.  Think of it as an ingredient where you can use as much or as little as you want to make a more complex drink.
Explore from a culinary point of view.  What other flavors mix?
Fresh Victor is all about experimenting.  Trying different flavors.  Adding spirits, garnishes and mixers that might not be traditional.
"All the ways you can use Fresh Vector.  I went through the lexicon of cocktails.  What can I make with lemon sour?  What can I make with Mexican Agave? Then I'd look at more unique flavor profile and ask myself what can I make with that?"
Fresh Victor Holidays Flavors
H. Ehrmann suggests a twist this cold, holiday season.  Think like a Hot Toddy. Simply warm up your Whiskey Sour, Lemon Drop, even your sangria.  Anything that would normally go with ice, this time heat it up warm and toasty.