Los Angeles' Scariest, Thrilling, Tastiest, Most Fun Halloween Event 2023 (Updated)
Our guide to Halloween 2023 in Los Angeles has you covered with the best treats, the most inspiring costumes and the best neighborhoods for fun, frights and memorable nights.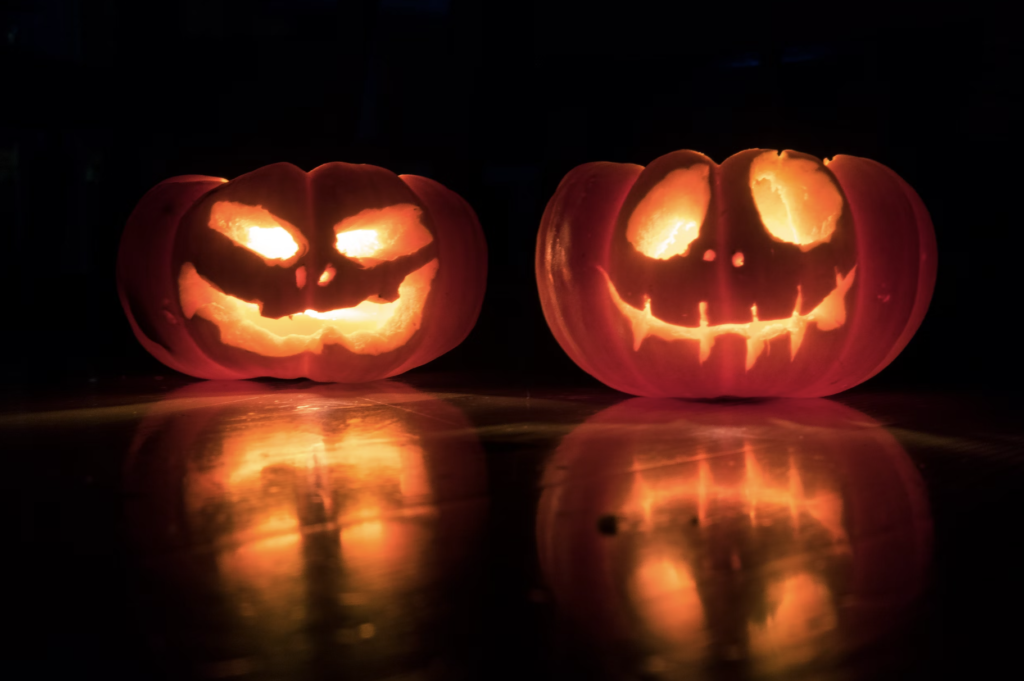 Haunted houses a big part of the season here — with theme parks and Hollywood professional effects artists. 
Let the countdown begin!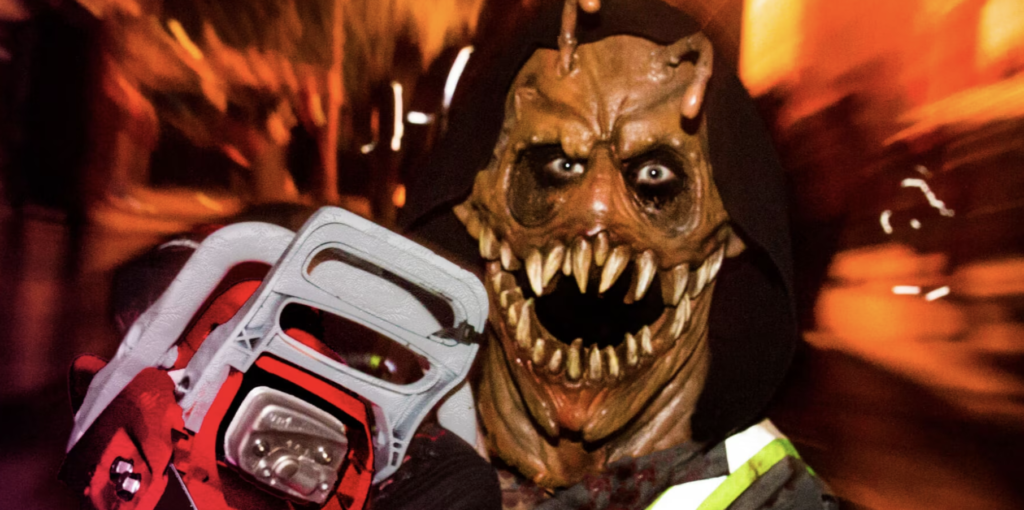 Universal Studios'  Halloween Horror Nights
Legend has it you should never go alone to Universal Studios Hollywood's Halloween Horror Nights, Southern California's scariest Halloween event. Summon your scream squad and you might survive.
You'll be able to navigate multiple scare zones and mazes, including ones based on The Last of Us, Stranger Things, Evil Dead Rise, The Exorcist: Believer, Chucky, the classic Universal Monsters.
8 Terrifying Haunted Houses and the Terror Tram
Enter haunted houses inspired by the biggest names in horror, plus the Terror Tram is back and scarier than ever. You're never quite sure if your spine is tingling with dread or sheer excitement.
Info and tickets here: https://www.halloweenhorrornights.com
Delusion
Since 2011, guests have played their part in the most visceral, captivating and unique live experience in the world. A living, breathing world of fantastical horror where stories come to vivid life
Devoted fans will be swallowed into various stories and connect with characters both dire and beloved as they track down the mysterious author behind the Delusion series and learn of a disturbing agenda.
Info and tix: https://enterdelusion.com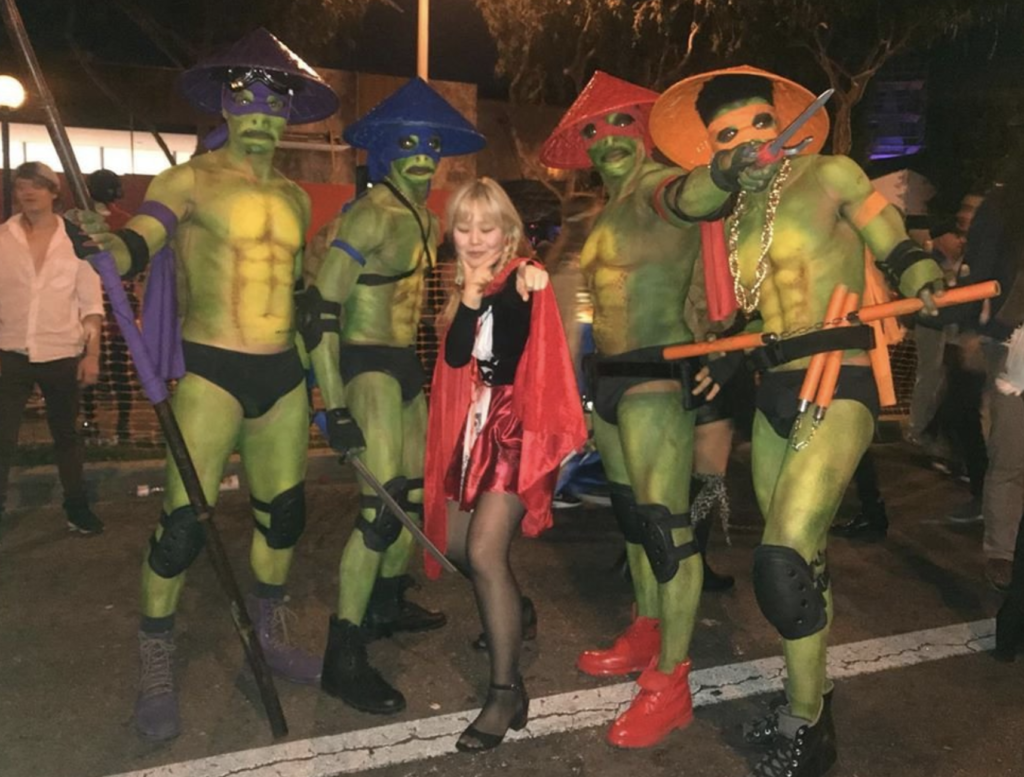 West Hollywood Halloween Carnival
West Hollywood loves Halloween, and the City of West Hollywood is thrilled that Halloween is back with Halloween Carnaval 2023!
The City's incomparable Halloween Carnaval is one of the most unique Halloween gatherings in the world.
Halloween Carnaval is free to attend and will take place on Tuesday, October 31, 2023 from 6 p.m. to 11 p.m. on a one-mile stretch of Santa Monica Boulevard between N. Doheny Drive and N. La Cienega Boulevard.
Staged on Santa Monica Boulevard/Historic Route 66, Halloween Carnaval will feature a stage at the intersection of Santa Monica Boulevard and N. San Vicente Boulevard with a live DJ set, food trucks and thousands of wildly dressed Halloween revelers for a one-of-a-kind experience.
There will also be Halloween celebrations at businesses, bars, restaurants and entertainment venues throughout the City!
The City invites Halloween Carnaval-goers to get into the spirit and show off costumes by uploading photos to social media sites with the hashtag #wehohalloween.
More info West Hollywood Halloween Carnival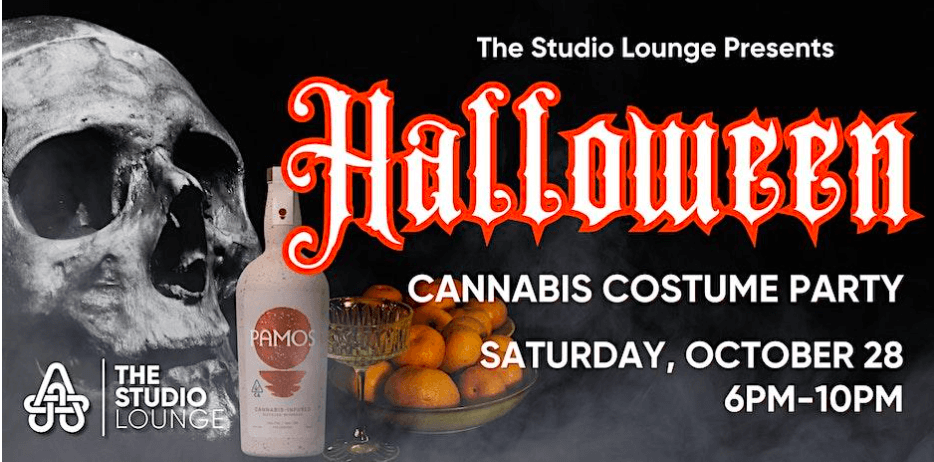 Cake Moss Hosts Spook-tacular All Hallow's Weed in the Heart of West Hollywood at The Artist Tree
It's time to get spooky at West Hollywood's favorite cannabis lounge! Cake Moss hosts this year's Hallo-weedparty at The Artist Tree, which includes tricks and treats of all sorts  in the form of spooky themed cannabis cocktails, entertainment, and some ghostly surprises.
Costumes are highly encouraged, as The Artist Tree is hosting a contest that starts at 8pm. Enter if you dare to be fabulous and leave with some goodies and perhaps even a chance to be entered into the West Hollywood Community Costume Contest on Halloween night that will feature celebrity judges.
For info and tix to: All Hallow's Weed at The Artist Tree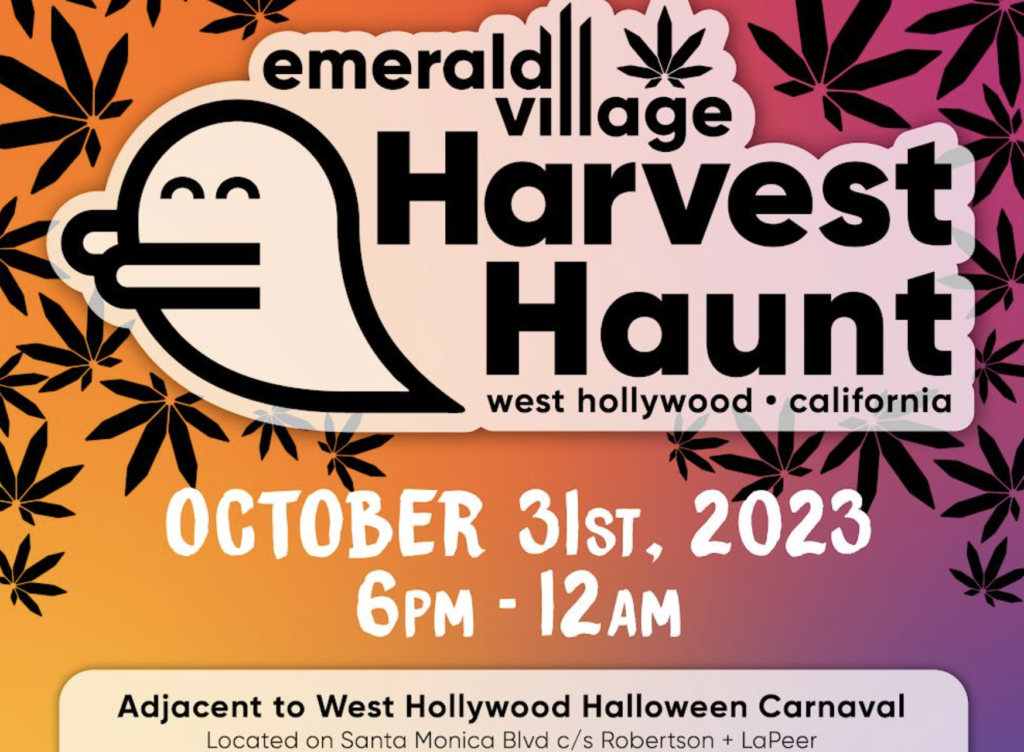 West Hollywood Halloween Harvest Haunt
Cinespia
This Halloween see spooky films screened in a cemetery. This October, Cinespia will be showing Halloween and Harry Potter and the Order of the Phoenix at Hollywood Forever Cemetery, The Ring at L.A. State Historic Park and Rosemary's Baby at the Orpheum.
Info and tix for Cinespia
Rooftop Cinema Club
"Come, we fly!" Over the years, watching Hocus Pocus during the Halloween season has become a tradition for everyone, including us here at RCC. And now we have an even better reason to play this classic because it turns 30 this year! Come out to celebrate its anniversary at one of our many screenings throughout October!
Info and tix for Rooftop Cinema Club
Walt Disney Concert Hall
Each year the Walt Disney Concert Hall adds a little bit of Frank Gehry architecture to Halloween with a silent film screening accompanied by organist Clark Wilson for an extra eerie feel. This year, take a seat for the silent 1925 masterpiece The Phantom of the Opera.
Info and tix for Walt Disney Concert Hall's The Phantom of the Opera.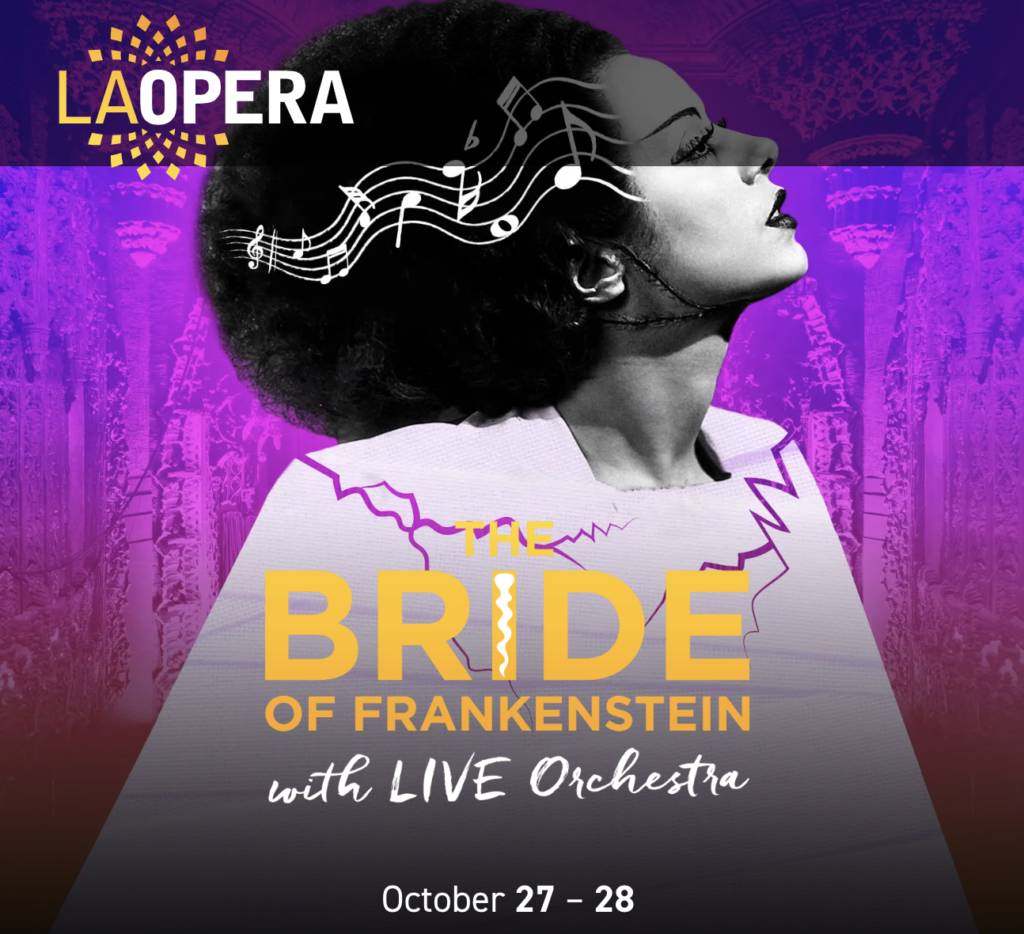 The Bride of Frankenstein with Live Orchestra
Break out the hairspray and spend Halloween with Elsa Lanchester and Boris Karloff!
This year, our hugely popular annual celebration of horror and live music at the breathtaking Theatre at Ace Hotel presents film director James Whale's chilling The Bride of Frankenstein, with one of the most iconic "wedding" scenes in cinematic history.
As this 1935 horror classic plays out larger than life on the silver screen, the magnificent musicians of the LA Opera Orchestra, conducted by Jenny Wong, perform Franz Waxman's groundbreaking original soundtrack score live. It's the ultimate cinematic experience!
Info and tix: The Bride of Frankenstein with Live Orchestra
Tim Burton's the Nightmare Before Christmas Live with Danny Elfman
Danny Elfman steps back into the role of Jack Skellington for a live performance and screening of The Nightmare Before Christmas at the Hollywood Bowl.
Featuring Elfman, Catherine O'Hara (Sunday), Halsey (Fri/Sat), Fred Armisen, Riki Lindhome (Fri/Sat) and Ken Page with a live orchestra!
Come early for Halloween Fun featuring a costume contest hosted by Greg Proops ("Who's Line is it Anyway?") and explore the Hollywood Bowl transformed into Halloween Town for in an incredible trick-or-treat adventure, fun for kids of all ages!
Info and tix: Tim Burton's the Nightmare Before Christmas Live with Danny Elfman