Hitching Post 2 Hosts Jim Clendenen Tribute Dinner, Benefiting Santa Barbara Charities.
Winemakers, Chefs, Vineyard Owners and Friends Gather to Honor the Legacy of Santa Barbara County Wines First Ambassador Raising $100,000 for Direct Relief and the Community Health Centers of the Central Coast
On February 4, 2023, Jami and Frank Ostini of the Hitching Post 2 in Buellton, California, hosted the Jim Clendenen Tribute Dinner benefiting Direct Relief and the Community Health Centers of the Central Coast.
One hundred ten guests came from distances as far away as Boston, Atlanta and Hawaii to honor Jim Clendenen, the founder and "Mind Behind" the highly acclaimed Au Bon Climat Winery located near Santa Maria, California.
The event raised $100,000 at the Santa Barbara Wine Auction sponsored by the Santa Barbara Vintners Foundation, with proceeds from the dinner benefiting the two charities.
Jim Clendenen started his winery in 1982, rising in prominence locally and internationally as he aspired to emulate Burgundy's culture and wine styles by creating unique Santa Barbara wines from Chardonnay and Pinot Noir.
He became an international ambassador for Santa Barbara Wines while traveling the world and returning to California to mentor the first and second-generation winemakers in Santa Barbara County.
Jim befriended the best chefs and winemakers worldwide and built a wine business that sells across America and the globe – England, Germany, Sweden, Norway, Canada, Japan and Korea.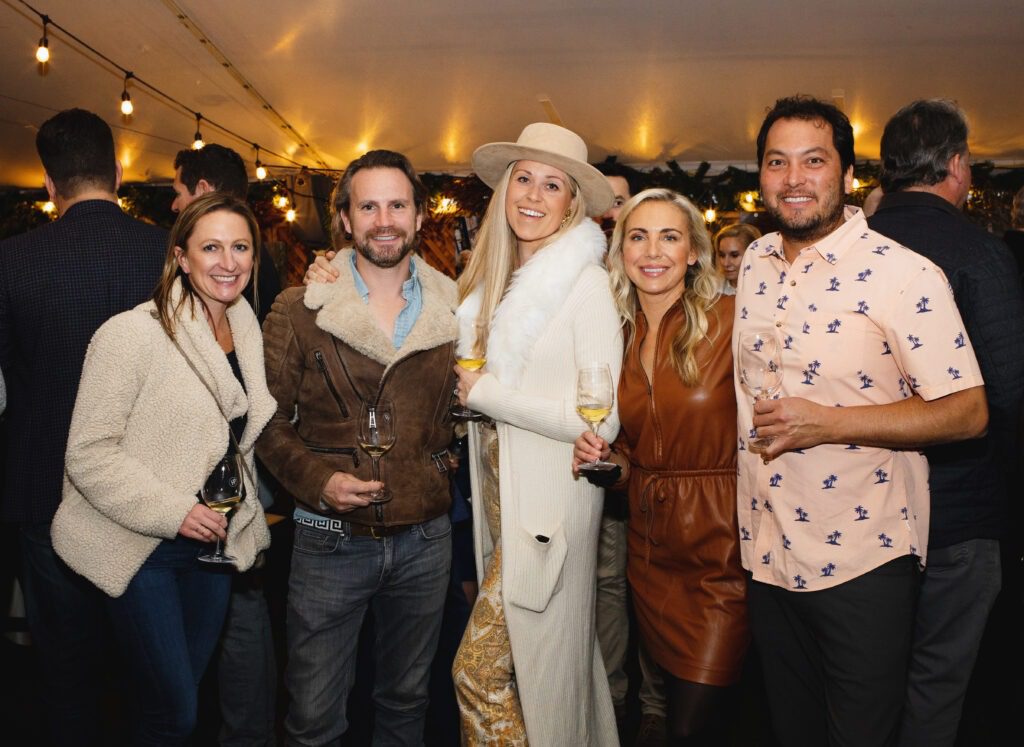 Jim's children have taken up the torch.
Daughter Isabelle is traveling to represent Au Bon Climat at the Triangle Wine and Food Experience in North Carolina, and Knox is selling wine in Japan.
Like father, like daughter, like son.
The rest of Jim's Au Bon Climat team was in the room – long-time winemaker Jim Adelman, first ABC employee cellar master Enrique Rodriguez, assistant winemaker Mark Piro, Michael Meluskey, James Sanders and Randi Chavoya. Surrounded with pictures of Jim's life, the dinner featured a slideshow of 300 photos.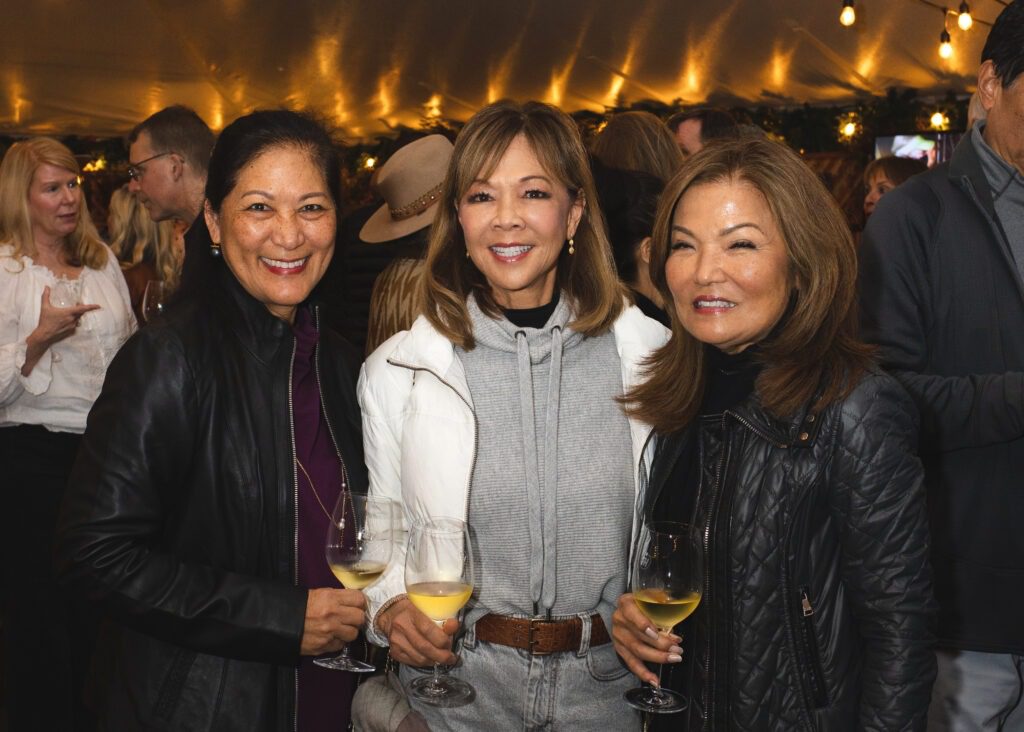 Endless storytelling filled every table as Jim's spirit lit up the room.
Stories of Jim's 40-plus year career and how he touched thousands of lives were shared by local grape growers, winemakers and friends, including Bob and Louisa Lindquist, Doug Margarum, Paul Lato, Brian and Lisa Babcock, Chad Melville, Andrew Murray, Katy Grassini, Matt Murphy, Justin Willett, James Ontiveros, Matt Turrentine, Gary and Jeanne Newman, Chuck and Kathleen Carlson, Chris Brown, Pierre LaBarge, Coby Parker-Garcia, Gary and Teresa Burk, Jessica Gasca, Debra Eagle, Drake Whitcraft, Jessica Stolpman and Gray, Charlotte and Weston Hartley.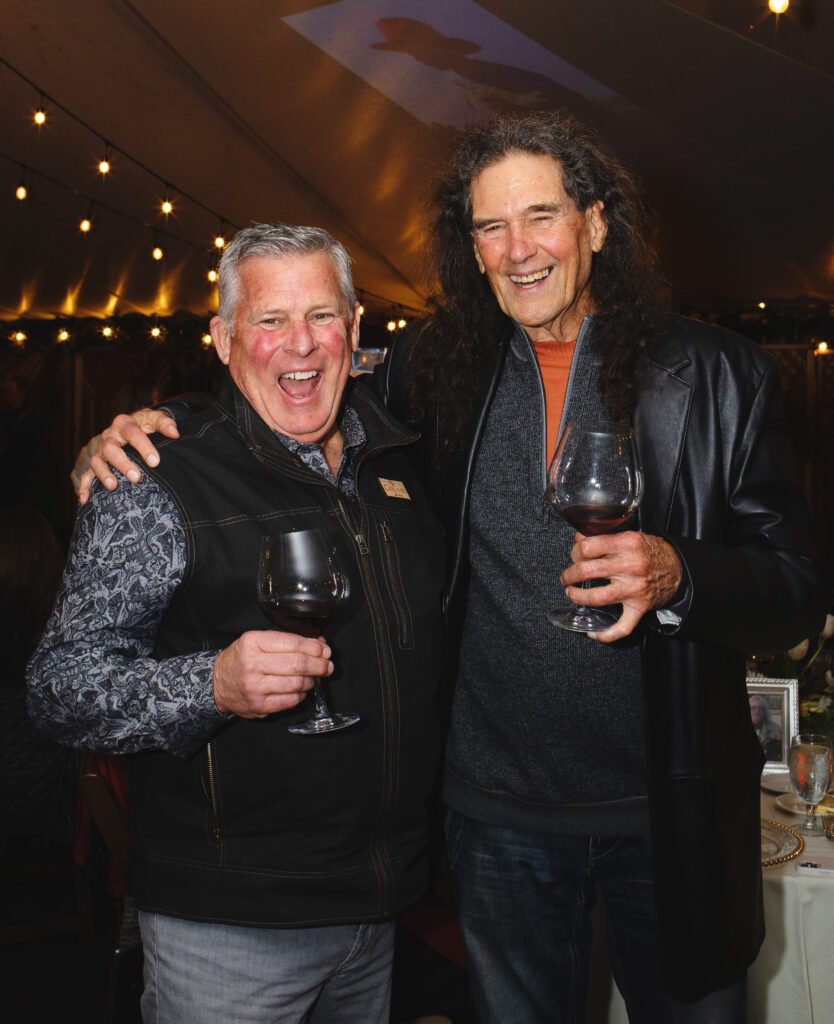 Other attendees of note came to pay tribute to Jim:  David & Judy Breitstein, David Fink, Bill Shea, Jay Mcinerney, Keith Pitts, Tom Black, Jimmy Davis, Blake Brown, Michael and Kathy Gordon, Bhupi Singh, Gurinder Kaur, Drs. Mark Goodman and Greg Hallert, and Jim and Jody Rea. The traveling contingent was led by Roy Yamaguchi, Chuck Furuya and Warren Shon from Hawaii, Chip Coen from Boston, Scott and Margret Dozier from Atlanta, and many others.
A spectacular five-course feast was prepared and served by the Hitching Post staff of 20 led by George Alvarado, Brad Lettau and Angel Carmona with the help of chef friends.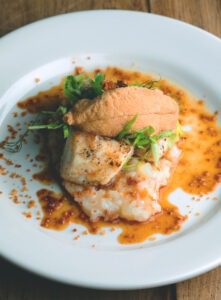 Clark Staub of Full of Life Flatbread Los Alamos had a strikingly colorful Chicory and Citrus Salad;
Roy Yamaguchi of Roy's Restaurants of Hawaii served the pinnacle plate of Sea Bass enhanced with fresh-caught uni from Santa Barbara's renowned fish-monger Stephanie Mutz.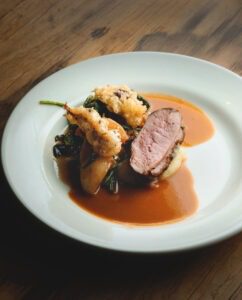 Budi Kazali, formerly of the Ballard Inn, followed with a wonderfully earthy Smoked Duck Breast with Turnips and Tempura Chanterelles.
The Hitching Post served their signature Oak-Grilled New York with Black Truffled Mashed Potatoes and finished the evening with an assortment of cheeses and small bites of sweets.
The menu was paired with ten outstanding wines poured from five-liter bottles of Au Bon Climat vintages that spanned four decades – 2020 to 1986. A team of eleven sommeliers meticulously served the wines under the leadership of fellow winemakers Bob Lindquist, Doug Margarum and Paul Lato.
The evening was a wonderful and memorable tribute to a great friend, Jim Clendenen.  And as Jim would have done himself, a generous sum was raised for charity while enjoying fine food and wine
ABOUT HITCHING POST 2 and HITCHING POST WINES:
The Hitching Post 2 Restaurant and Hitching Post Wines offer a quintessential Santa Barbara Wine Country food and wine experience in the heart of the Santa Ynez Valley. One can enjoy traditionally made Pinot Noirs in a nearly 100-year-old wine-tasting room along with a casual high-quality BBQ lunch out back, set in a glorious outdoor setting with a mountain backdrop.
In the evening, you can visit the iconic Hitching Post 2 steak house that has been a Santa Ynez Valley institution since 1986 – a restaurant where you can enjoy Central Coast oak wood BBQ'd steaks and seafood matched with Hitching Post and fine local wines from Santa Barbara County.