Italian Wines poured for 'Charming Taste of Europe' Holiday Dinner
Italian wines can be the preferred choice for the holidays or equally suited for every day drinking, whether tasted alone or paired with a meal.
Old World history, diverse varietals and styles to match every dish and palette, and are surprisingly affordable – especially compared to wines of similar prestige.
Lincoln Ristorante hosts Italian Wines from Charming Taste of Europe
Tonight's dinner takes place at Lincoln Ristorante beside NYC Lincoln Center's reflecting pool and iconic Henry Moore sculpture.
Hosted by Italian Wine Expert Susannah Gold for Vini D'Abruzzo, Kavala Coop, Sweet Bordeaux and the European Union.
The Union of Agricultural Cooperatives of Kavala (Kavala COOP) was founded in 1927. Today it has 500 members that include producers from the provinces of Kavala, Nestos and Thassos.
Lincoln Ristorante offers an authentic interpretation of Italian cuisine by sourcing the best local ingredients, relying on local farmers, Tucker Square Greenmarket and importing from Italy.  Then preparing the menu with authentic Italian methods. 
They honor traditional Italian dishes making their own fresh pastas, grissini, and focaccia.
Enjoy!  It's from Europe
We're tasting Italian wines with our holiday dinner.
With over 36,000 hectares (138 miles) of vineyard space and producing 3.5 million hectoliteres (350 million liters) each year, viticulture is one of Italy's strongest agriculture industries. 
Nearly 80% of grape growing and wine activity takes place in Montepulciano d'Abruzzo.
There's a truly impressive amount of quality wine coming from the area. 200 private wineries and 40 cooperatives in Abruzzo's Chieti province.
Montepulciano d'Abruzzo's Wine 
The region has a variety of wine producers, something for every palette, pairing, and budget.
There are 2  DOCG:  Montepulciano d'Abruzzo Colline Teramane Docg and Terre Tolesi or Tullum DOCG.
There are 7 DOCs: Montepulciano d'Abruzzo Doc, Trebbiano d'Abruzzo Doc, Cerasuolo d'Abruzzo Doc, Abruzzo Doc, Villamagna Doc, Controguerra Doc, Ortona Doc
And there aerie 7 IGT: Colline Pescaresi Igt, Colline Teatine Igt, Colline, Frentane Igt, Colli del Sangro Igt, Del Vastese or Histonium Igt, Terre di Chieti Igt, Terre Aquilane or Terre de L'Aquila Igt
Chieti is the most popular area with more than 75% of vineyards
The production areas are mostly in the hills and the coast.
The Chieti province is the most popular area with more than 75% of vineyards and 83% of production.
With quite a bit less, Pescara and Teramo, each account for about 10% of the vineyards, and 10% and 6%,respectively of production
L'Aquila is most modest area, with less than 4% of vineyards, and 1% of production.
The Scope of Italian Wines from Charming Taste of Europe
Nic Tartaglia with Italian Wines from 'Charming Taste of Europe'
Nic Tartaglia is a leader in the area with Tartaglia Farm in the little village Alanno, which is part of Pescara, 1010 feet above the sea level, within a 30 miniature drive of the Adriatic sea and the Appenini mountain range.
Winters are cold with plenty of snow, and summers are cool and sunny. Their aggressive climate, with clay grounds and limestone grounds encourage grapes that bring rich aromas, color and high sugar. 
Perfect for Italy's popular wine: Montepulciano d'Abruzzo, Trebbiano d'Abruzzo and Pecorino, and even more: Chardonnay and Cabernet.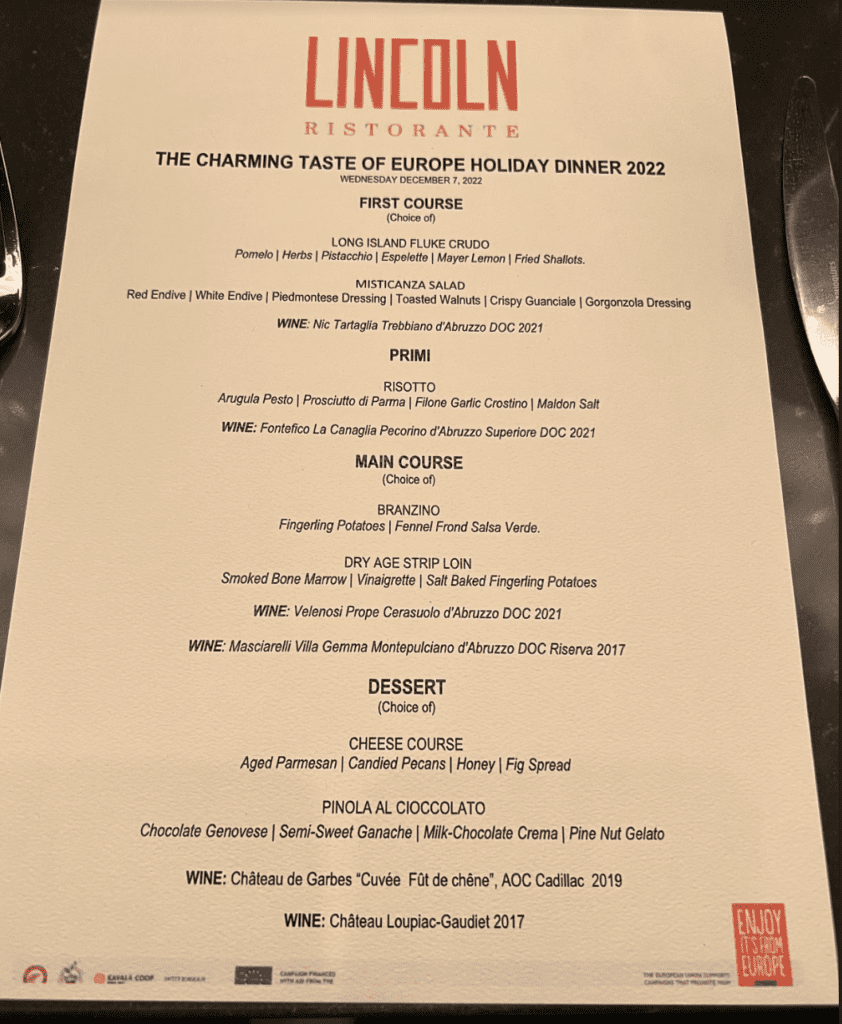 Dinner begins – Italian Wines from 'Charming Taste of Europe'
First Course
Choice of…
Long Island Fluke Crudo
Pomelo, herbs, Pistacchio, Espelette, Meyer lemon, fried shallots
Misticanza Salad
Red Endive, White endive, Piedmontese dressing, toasted walnuts, crispy guanciale, gorgonzola dressing
Wine: Nic Tartaglia Trebbiano d'Abruzzo DOC 2021
On the nose, notes of pear and plum. Full body, good acidity and lingering finish. Would pair with grilled vegetables.
Primi
Risotto
Arugula pesto, Prosciutto di Parma, Filone Garlic Crostino, Maldon salt
Wine: Fontefico La Canaglia Pecorino d'Abruzzo Superiore DOC 2021
This golden-hued beauty has a full body and refreshing minerality. Balsamic and herbal notes lead to floral hints, with grapefruit on the finish.  Would pair well with a light dish and gravy or meat sauce.
Main Course 
Dry Age strip loin
Smoked Bone Marrow, Vinaigrette, Salk baked fingerling potatoes
Wine: Velenosi Prope Cerasuolo d'Abruzzo DOC 2021
This is a beautiful surprise.  At first when you're served a rose with your cut of streak, it can seem like a mistake.  Most rose's couldn't stand up to the challenge.
But this story is different; and this wine is special.
Notice it's intense bright pink color.  The most confident welcome with the results to match.  Beautiful notes of floral aroma, roses, red fruit. Rounded mouthfeel with raspberry and high acidity to cut through the steak and linger long after.  Would pair well with sourdough, rib eye, gamey meat.
If you're looking for a bold rose' this is a great selection.
Wine: Masciarelli Villa Gemma Montepulciano d'Abruzzo DOC Riserva 2017
This is the powerful wine you'd expect paired with steak.  Deep Ruby color, with black cherry and spices on those nose. Plush, velvet with smokey oak.  Very tannic, almost chewy.  A young wine with lots of room to evolve over the years
Choice of Dessert
Pinola Al Cioccolato
Chocolate Genovese, Semi-sweet Ganache, Milk chocolate crema, Pine nut gelato
Cheese Course
Aged parmesan, Candied pecans, Honey, Fig spread
Wine: Chateau de Garbes "Cuvee Fut de chene" AOC Cadillac 2019
Shimmering golden color. The nose has fruit with slightly woody aroma. Refreshing honeyed notes of candied fruit.
Wine: Chateau Loupiac-Gaudiel 2017
Pale yellow in the glass.  Apricot and peach on the nose.  Very well-balanced with nuances of saffron, chive and ginger.  The ginger brings a slight bitter ending that makes for a brisk palette cleanser.
Italian Wines from Charming Taste of Europe